What recipes can you find in scandicuisine?
Scandicuisine is for you who want to connect to your Nordic heritage through food. Cecilia's kitchen makes simple Scandinavian recipes from Sweden, Finland, Norway, and Denmark. All explained so you can be a successful cook.
In the recipe articles, you can find information on the history of traditional recipes and how to make the recipe step by step, often with a video also. Do check all the videos on the Scandicuisine youtube channel.
You can also find vegan and vegetarian alternatives for some Nordic recipes. I also make other recipes with Nordic-inspired ingredients.
Connect with me
I would love to know what recipe you would like to find in Scandicuisine! Please email me at scandicuisine@gmail.com
You can also tip me on what type of Nordic cookbook you would like to buy:
Finnish pulla book with tips on making the best pulla and 30 different pulla recipes
Most popular Scandinavian recipes
The Scandinavian pancake book, with favorite sweet and savory recipes
Simple Scandinavian recipes for the busy parent, connect your kids with their nordic heritage
I am making a cookbook based on your suggestions in the year 2022.
Are you interested in cooking courses? If I get requests for cooking courses, I will make one. Here are some suggestions you might be interested in
How to make perfect karjalanpiirakka, the Finnish rye-riceporridge pastries
How to make Finnish archipelago bread and toppings
Guide to making Finnish pulla and Swedish cinnamon buns
Swedish meatballs and variations
Swedish kroppkakor
Behind the blog
I am Cecilia; I create the content for scandicuisine.
I am also the creator of the Finnish food wiki, ruokawiki.fi. I thought it would be nice to share some Scandinavian recipes in English also. This is how this Scandinavian kitchen blog started.
You get a peek at my kitchen and get to taste my family's recipe library, although that is mainly in my head :).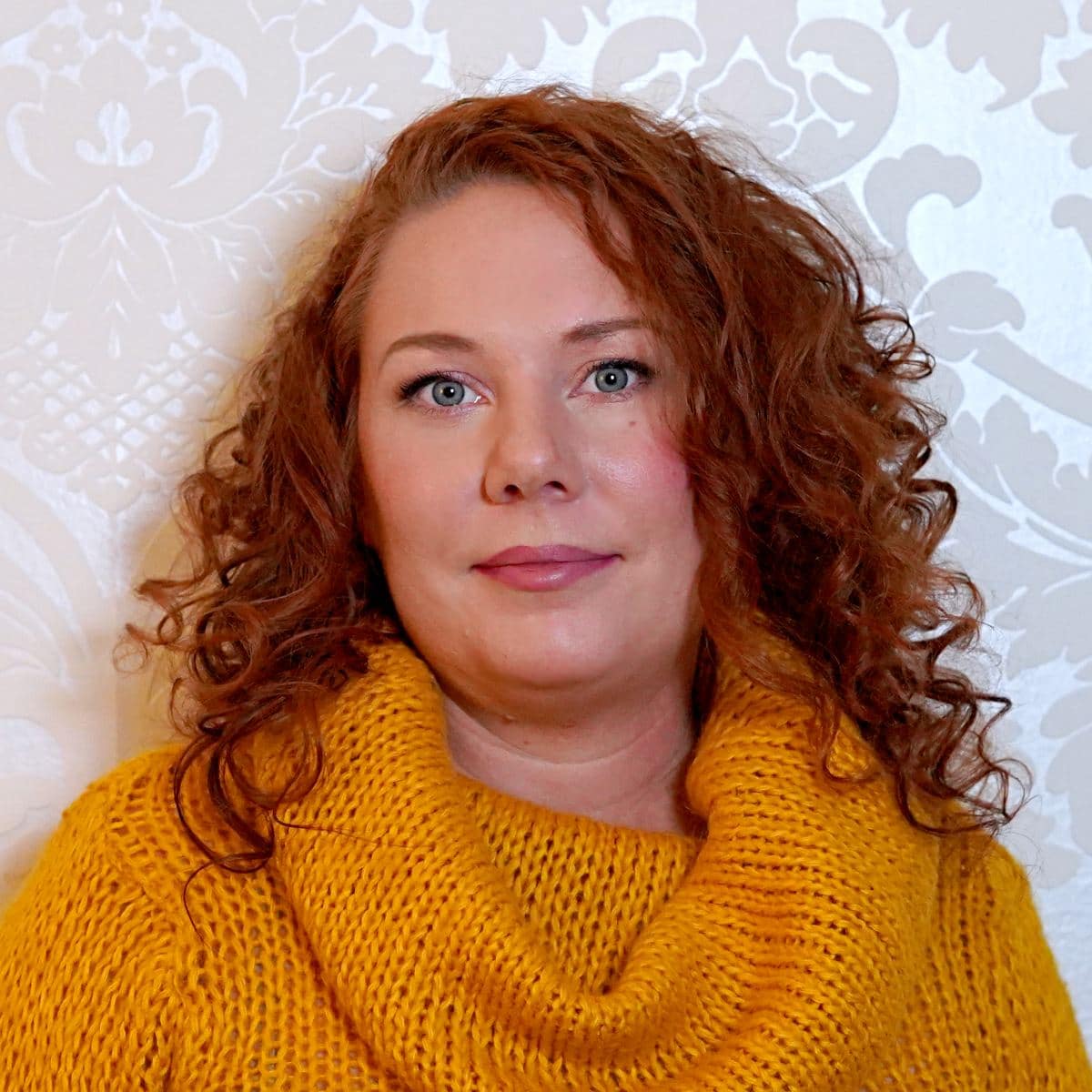 I got my interest in cooking from my mum. I sat endless hours by the kitchen counter cooking with her. And in my plays, I was boiling grass soup or decorating sand cakes with flowers.
We spent a lot of time in the Finnish forests harvesting before the long winter. Picking berries, mushrooms, and leaves. These became pickles, jellies, juices, and dried things.
I live in Finland with my Swedish husband and our dog Nelli. She is eager to help out tasting the recipes and knows the word köttbulle, meatball since she only understands Swedish.
I am not a professional chef, just a passionate home cook who understands the importance of simplicity in food. I teach you regular Scandinavian home cooking with everyday kitchen appliances.
I am also passionate about reading food history and nutrition. I have taken many nutrition courses and included nutrition content in the recipes.
So what do we eat at home? We eat mainly plant-based. Meat is sometimes prepared when we get guests. This is why I also include many vegan and vegetarian recipes and tips on making traditional Scandinavian cuisine a bit healthier. Better for the planet to eat more veggies, especially local ones.
Our favorite recipes: