Are you planning a trip to Sweden? Here are some pizzas you need to try out. Or make this cultural trip at home with some Scandinavian pizza toppings.
Typical Swedish pizzas have a thin and crispy crust. They are also quite big in diameter. Pizzas in Sweden are usually served with a cabbage salad and garlic sauce.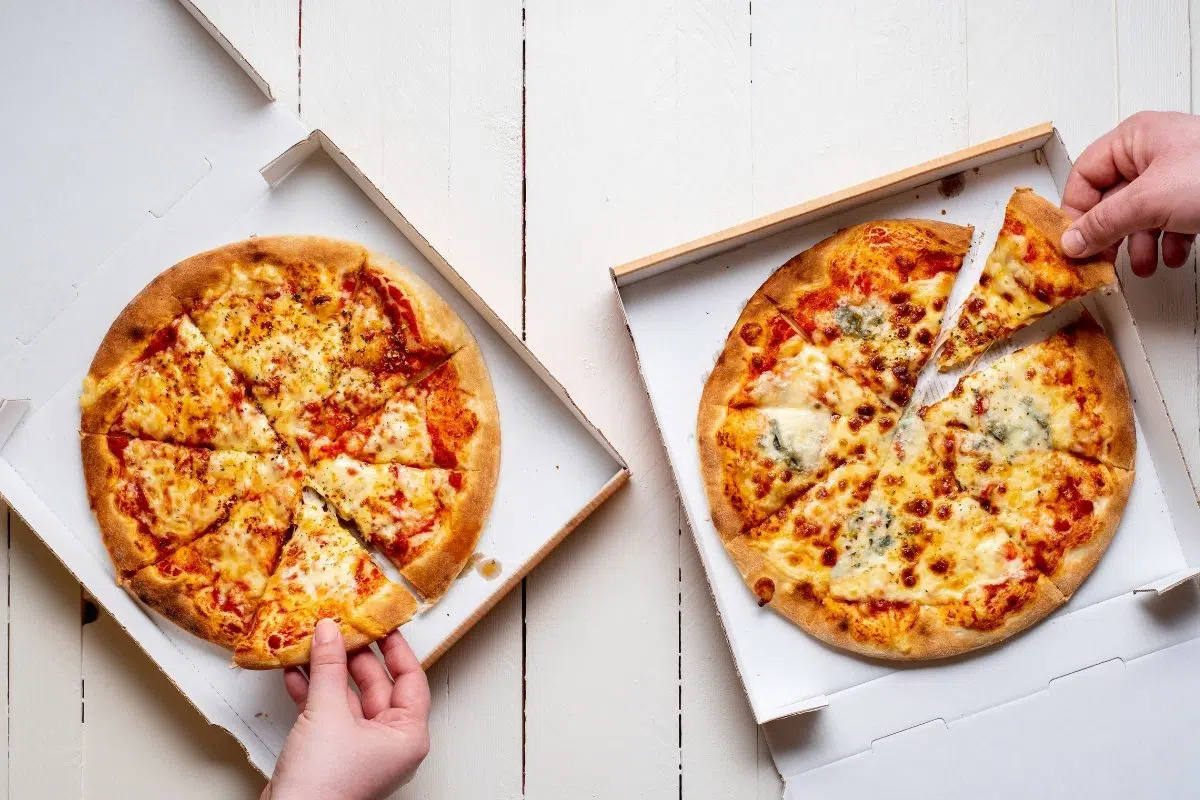 Popular pizza toppings in Sweden
Here are some Swedish influenced toppings you might find in the pizza menus:
Meatballs. Yes they put meatballs even on pizza, usually as aliced or have and with bearnaise sauce.
Gräddost. A swedish cheese made from cream. Instead of mozzarella many swedish pizzas are topped with this type of cheese.
Shwarma meat. A popular meat in pizzas and not just in kebabs, reads as kebabkött on the list.
Oxfile. Beef fillet is a popular meat in pizzas. It is often served with bearnaisesauce and asparagus.
Färs. Minced meat is used in combination with olives, garlic, bell peppers or as a taco pizza with a more mexican taste profile including tacosauce, jalapenjos and onion.
Salmon. Yes, there are different types of salmon pizzas. One common is a blonde pizza, so no tomato sauce but cream cheese as a base instead with salmon and topped with arugula.
Seafood.Pizza marinara is the seafood pizza with canned mussels, shrimps and canned tuna.
Curry. You can find different curry flavored pizzas. Ones with bananas and ham or chicken.
Of course, chicken, salami, pepperoni, tuna, and mozzarella are popular ingredients in pizzas.
Weirdest Swedish pizza
The weirdest pizza flavor in Sweden is banana curry pizza. The sweet taste of banana is combined with the smoky aromas of ham or smoked cheese.
If you like to try out this banana curry pizza at home, this is what you need:
Pizza crust
Tomato sauce
1 ripe banana
Curry powder
Smoked ham
Grated cheese
Use a ready pizza dough, spread some ready tomato sauce on top. Add your ham, thinly sliced banana, and a sprinkle of curry powder, about 1 tsp. Cover with grated cheese and bake in the oven according to instructions of the dough.
Some like to add chopped peanuts on top.
To make a vegan version, use smoked tofu and vegan cheese.
Another weird pizza, in my opinion, is one topped with french fries. There is the kebab pizza with french fries or the beef fillet-bearnaise pizza with fries.
What do Swedes serve with their pizza?
In Sweden, the pizza is accompanied by a grated cabbage salad and garlic sauce. In pizzerias, a salad table is often included in the price; you will find green salad, the grated cabbage salad, chopped veggies like cucumber, bell pepper, and tomatoes. Olives, pineapple, and other pizza toppings are often also served.
Check out the recipe on how to make pizza salad at home. The tangy cabbage side salad. Or check the video on how to make it.
The garlic sauce is easy to make. It has:
½ cup mayonnaise
½ cup turkish joghurt
2 pressed garlic cloves
½ teaspoon sugar
pich of salt and black pepper
What does pizza cost in sweden?
The average pizza price in Sweden is 60-70 kronor, so 6,5-8 dollars. I more fancy restaurants or Italian pizzerias, pizzas cost more, up to 200 kronor, 22 dollars. The amount of different toppings affects the price. Pizza margarita is the cheapest pizza.
Most popular swedish pizzas
These are the pizzas Swedes order and like the most:
Vesuvio. Tomatosauce, cheese and ham. A kids favorite.
Kebab. Tomatosauce, cheese, shwarma meat, jalapeno, onion, iceberg lettuce, tomatoes, cucumber and kebab sauce.
Margherita. Simple pizza with tomatosauce, cheese and basil.
Hawaii. Ham, pineapple and cheese
Capricciosa. Tomatosauce, cheese, ham and mushrooms.
The kebab pizza is trendy both in Sweden and Finland. You can find it even as a vegan version made from Seitan-kebab. In Finland, order as Vöner pizza.