There's a certain magic in the way Finnish names roll off the tongue, a delicate dance of vowels and consonants that makes you sharpen your ear. They reflect Finland's rich history, beautiful nature, and fascinating tales. In this post, we'll explore some of these beautiful names, uncovering their stories and meanings while I share some of my ideas on how to name your baby girl.
Importance of names in Finnish culture
As in other countries, names are important in Finland too. Names are deeply rooted in history, revealing some historical events like Finland used to be ruled by Sweden and Russia and that Finland is a Christian country. We also get many names from folklore, like Kalevala, which gives us names carried by ancient heroes, gods, and natural elements.
Nowadays, many people like to preserve some old names from the family history, especially as a second or third name. People like to give names about something that reminds them of good times or nice people. Giving unique names has become more popular nowadays, names that other people don't carry. Also, multiculturalism affects modern names. It is even quite common to name girls with names that pets used to have, like Milla, Nella, Nelli, and Hertta.
What does Finnish law say about forenames?
If you live in Finland, you might want to read the law about names. If you live abroad and just are searching for inspiration, you can skip this paragraph.
In short, the Finnish law says about forenames:
Everyone must have a first name and a last name.
You can only have four forenames.
Forename can not be unsuitable (something that causes aggravation)
A sibling can not have the same name as the first forename.
It cannot be a boy's name or a surname.
There are though acceptions. If you want to give your girl a name that could also be a boy's name, at least five living persons must have the same name. A last name could sometimes be a first name, even though it is uncommon. Also, cultural name differences are taken into account.
In Finland, a child is given a name when the hospital sends information about the newborn to the population information system. A birth certificate is not used in Finland. Parents give the child one to four first names and report the registration details to the Digital and Population Data Services Agency or to their Evangelical Lutheran or Orthodox congregation.
Finnish girl names with culinary ties
Since my blog is mostly about Scandinavian food and recipes, I wanted to mention to you some special names that have something to do with food. Here are some that have culinary ties, either directly or through their meaning:
Minttu: Translating to "mint" in English, Minttu is a popular girl's name in Finland. Mint is an herb that is commonly grown in the Finnish kitchen gardens. Minttu is a name the is more modern.
Marja: This name means "berry" in Finnish. Finland is known for its unique berries, like bilberries, lingonberries, and cloudberries. Marja is a name that many a bit older people have.
Marja-Terttu. This would be a fun double name meaning a bunch of berries.
Mansikka. Strawberry.
Mustikka. Blueberry. Less than 100 have this name.
Vadelma. Raspberry. Under 300 named as Vadelma.
Kukka: Kukka means flower. In Finland there are many edible flowers to use as cake decorations or as ingredients in salads or drinks. Something special is voikukka sima (dandelion mead) that my mother used to make.
Orvokki: Means violet. Finnish violets can be used in salads and cake decorations if grown organically. You can even buy them in grocery stores at the herb department.
Sokeri: Though not a common first name, it means "sugar" in Finnish. This could be a very unique name-if you are searching for one.
Helmi: Meaning "pearl," it's a beautiful name often given to Finnish girls. Culinary-wise, pearl is associated as a descriptor for small, round ingredients (like pearl barley, potato pearls or pearl onions).
Rusina: This translates to "raisin" in Finnish. This is also something not common, but it would certainly be quite a humourous name.
Timja. This brings to mind Timjami which is the name for the herb thyme. My sister is actually named as Timja.
Manna. Manna is a more modern girl name. Manna is semolina. We often cook delicious mannapuuro a creamy semolina porridge. Manna is also a biblical name since it is the food that the Israelites ate in the desert.
Kirsikka. Beautiful name meaning cherry. There are more than 100 with this name.
Kumina. The spice cumin. A very uncommon name, but there are girls named as Kumina.
Vanilja: Vanilla. A variation could be Vanelja. There is a famous Finnish blogger with a blog named like this.
Aura. A quite common girn mane. There is a famous blue cheese with the brand name Aura. Aurajoki is also a river in Turku.
Vilja. Means grain. A common boy's name is Viljami, but it is not a bend from Vilja.
Anis. As the spice.
Estrella. A famous Finnish potato chips company.
Papu. Means a pea—a common nickname, especially for the pregnancy time.
My name story
So, as you know, my name is Cecilia. But this is not a typical Finnish girl's name. Cecilia is also actually the third name that I use. I don't use the first name given to me since it is from the Bible, and people have difficulty pronouncing it. As a baby, my family called me Sessi; nicknames and shortening of names is very common.
Since my dad is a "Finn-Swede", my parent chose it would be nice to name one child something more Swedish. And good that they did so since I attended a Swedish school, so I blended in nicely with my name.
Cecilia is quite common in Sweden, but it is not actually Swedish either; it has Latin origin and is derived from the Latin word meaning blind.
My second name, Heidi, is a quite common Finnish name, but it has German origin and is definitely influenced by the TV series Little Heidi in the mountains that my mother liked.
50 most popular girl names with meaning
Below is listed the most popular girl baby names in the year 2022
| Name | Amount named | Origin/Meaning |
| --- | --- | --- |
| Aurora | 1110 | The name evokes images of the Aurora Borealis, also known as the Northern Lights. The name Aurora is also associated with the Roman goddess of dawn, symbolizing new beginnings, light, and beauty. |
| Maria | 1073 | Latin origin. It has multiple meanings including "of the sea," "bitter," "beloved," and "rebellious." Maria is Latin form of Mary. Jesus mothers name is Maria in the Finnish bible. |
| Sofia | 984 | Greek origin. Means wisdom. |
| Olivia | 940 | Latin origin. M. Ens olive or olive tree. Olivia carries connotations of tranquility, fertility, prosperity, good health, and victory. |
| Emilia | 705 | Latin origin from Aemilius. Indicates the strive for success and achievement. |
| Aino | 619 | "Aino" holds a special place in Finnish culture. Aino is a character in Kalevala who chooses to drown rather than marry against her will, a testament to her independence and strength. The word Ainoa means "the only one". |
| Matilda | 548 | German origin. Means mighty in battle. |
| Ilona | 512 | The word Ilo means joy in Finnish. And this is a form of that word. "as joy". Ilona is also a Hungarian form of the name Helena. |
| Linnea | 496 | Linnea is derived from the Linnaea borealis, which is a small, woodland flower native to Northern Europe. The flower is named Vanamo in Finnish. |
| Ellen | 496 | Ellen is of Greek origin and is a variation of the name Helen or Helena. It means "light" or "bright." |
| Helmi | 485 | Means pearl. |
| Amanda | 471 | Amanda is not of Finnish origin but has been used in Finland and many other countries. It is derived from the Latin name "Amandus," which means "lovable" or "worthy of love." |
| Lilja | 410 | Lilja, means "lily" in English. It's a floral name, and lilies are often associated with purity and beauty. |
| Helena | 354 | Helena is a name of Greek origin, and it means "bright," "shining light," or "torch." It is a classic name that has been used in various forms in many different cultures, including Finland. |
| Aada | 341 | In the context of its Germanic origin, Aada means "noble." In the context of its Hebrew origin, it means "adornment" or "beauty." |
| Aava | 339 | In Finnish, "aava" can mean "open," "wide," or "free," typically referring to a large, open space, like a plain or a sea. |
| Isla | 323 | Isla means Island in Spanish. This name is more modern name and not traditionally Finnish. |
| Kerttu | 310 | A form of the German name "Gertrude," which comes from the Old High German words "ger" (spear) and "trud" (strength). |
| Viola | 303 | Latin origin and has been used in various European countries. It's derived from the Latin word for the flower "viola." |
| Aleksandra | 303 | Finnish form of Alexandra that originates from the Greek name Alexandros, meaning defender of man. |
| Eevi | 294 | Eevi is a variation of the name Eeva, and it was added to the calendar alongside Eeva in 1964. The names Eevi and Eeva originate from the Hebrew word 'hawwah,' which refers to 'life' and 'giver of life. |
| Alina | 292 | The name has multiple origins, including Germanic and Slavic roots. In the Finnish context, it's often considered a variant of Adelina or Helena. |
| Kaarina | 257 | Kaarina is a Finnish form of the name Katherine, which is of Greek origin, derived from the Greek name Aikaterine. |
| Amalia | 251 | Amalia is of Germanic origin, derived from the element "amal" meaning "work," and it also has a Latin root. It typically means "industrious" and "striving" and is sometimes associated with the concept of "fertility" or "hardworking." |
| Elli | 249 | Elli is a Finnish form of the name Ellie, which is a diminutive of names like Eleanor, Ellen, and Elizabeth. These names have different origins, such as Greek and Hebrew. |
| Inkeri | 249 | This name is the Finnish form of "Ingrid," originating from Old Norse and meaning "beautiful, beloved." |
| Eveliina | 245 | Eveliina is a Finnish variant of "Evelina," which is derived from the Old French name "Aveline" meaning "wished for child." In another context, it's related to the Hebrew name "Eve," meaning "life." |
| Kristiina | 240 | This is the Finnish form of "Christina," derived from the Latin "Christiana," meaning "follower of Christ." |
| Emma | 240 | This name has Germanic origins, meaning "whole" or "universal." It's been widely popular in many countries, including Finland. |
| Elsa | 238 | This is a short form of the name "Elisabeth," and it means "pledged to God." It's of Hebrew origin but has been used in various forms across Europe. |
| Hilla | 236 | Hilla is a Finnish name that means "cloudberry" in Finnish. It's also associated with sweetness and nature. |
| Ella | 235 | This is a short form of various European names ending with "-ella," and it means "all, completely |
| Alexandra | 234 | same as above with the name Aleksandra. It's a common name in many cultures, including Finland, often indicating strength and determination. |
| Venla | 233 | "Venla, as well as its other forms Vendela and Vendla, are names of German origin, which are believed to have been established in Finland and Sweden by the latest in the 17th century. Vandals were a Germanic tribe. |
| Lyydia | 228 | Lyydia is the Finnish version of "Lydia," which originates from Greek, meaning "from Lydia." Lydia was an area in Asia Minor. |
| Johanna | 222 | This is the feminine form of "Johannes," which is a Latin form of the Greek name derived from the Hebrew "Yochanan," meaning "YAHWEH is gracious." |
| Elisabet | 213 | This is the Finnish and Swedish form of "Elizabeth," which comes from the Hebrew name "Elisheva," meaning "God is my oath." |
| Anna | 209 | Anna is derived from the Hebrew name "Hannah," meaning "favor" or "grace." |
| Elina | 208 | This is a Finnish and Swedish form of "Helen," derived from Greek, meaning "torch" or "corposant." It's also often related to "the bright one." |
| Livia | 208 | Name is of Latin origin, meaning "blue," "envious," or more traditionally, it's linked to "life." |
| Alisa | 206 | Alisa is of Hebrew origin, meaning "great happiness." It's also a variant of Alicia, a form of Alice, meaning "noble." |
| Pihla | 204 | This unique Finnish name is derived from the word for a type of tree, specifically the "rowan" or "mountain ash tree." It's a name often associated with strength and stability, reflecting the qualities of the tree. |
| Elisabeth | 202 | This name is the Finnish form of "Elizabeth," which originates from the Greek name Elisabet, itself derived from the Hebrew name Elisheva meaning "God is my oath." It's a biblical name, and in Christian tradition, Elizabeth was the mother of John the Baptist. |
| Hilda | 199 | Hilda is of Old German origin, meaning "battle" or "battle woman." It was a common name among Scandinavian settlers in England before becoming used in the English-speaking world in the 19th century, and it found its way to Finland as well. |
| Alma | 195 | The name Alma can have different origins. It's a Latin word meaning "nurturing soul" or simply "soul." In Hebrew, Alma might mean "young woman." |
| Orvokki | 192 | This is a distinctly Finnish name, meaning "pansy," the flower, in the Finnish language. It's been a traditional name in Finland, reflecting the Finnish people's love of nature. |
| Isabella | 192 | This name is the Latin form of "Isabel," a variation of Elizabeth, meaning "God is my oath. |
| Enni | 190 | Enni originally is a nickname for Eine and Eini. In Estonia, Enni is considered a variation of Henrika. |
| Elviira | 189 | This name is the Finnish form of "Elvira," which possibly means "all true" in Old High German |
| Lumi | 188 | Lumi is a traditional Finnish name meaning "snow" in Finnish. |
source
Most common Finnish names overall
The most common Finnish first name is Anne, with over 30 000 persons having it as their first name. Next ones are Tuula, Päivi, Anna, Minna, Sari, Leena Pirjo and Ritva.
The most common names appearing as second names are Maria, Anneli, Helena, Johanna, Kaarina, Hannele, Marjatta, Kristiina, and Emilia.
Rarest girl names in Finland
Some rare girl names include old names that are not actually used anymore. Such girl names include for example; Suometar, Päivä, Ilmatar, Nyyrikki, Ainikki, Anelma, Impi, Mielikki, Varma.
Then there are name modifications that are quite rare like Janica, Tuua, Everiina, Sannina, Janike, Kertti and Annia.
Rare names also include a possessive form of the mother's or father's name, like Alpontytär, Annantytär, Elinantytär, Taunontytär..
Here is a list of the most rarest Finnish names that I have researched from digi ja väestötietojärjestelmä about the total amount of given names, there should be only five people with these names:
100 most rarest Finnish names given
| | | | |
| --- | --- | --- | --- |
| Aamurusko (morning sun) | Haagar (biblical name) | Lauretta | Tuiti |
| Aamu-Tuuli (morning-wind) | Halle | Likka | Tuttan |
| Aarikka (Finnish design brand) | Hanniina | Loimu | Tuulimari |
| Ada-Lotta | Heliina | Lorina | Tyrsky (foaming wave) |
| Ainoleena | Helje | Lovina | Tyttiina |
| Anja-Marja | Henne | Lumielle | Tyyne-Maria |
| Anjukka | Hevi | Mahla | Tähdikki |
| Anniriina | Hortensia | Maira | Ullamarja |
| Autere | Ilari | Miitja | Ulvi |
| Beeta | Ingaliina | Miriami | Ummi |
| Beritta | Ingelill | Nellia | Unna-Maija |
| Ceelia | Ingria | Oskariina | Vaara |
| Crisse | Ireena | Pähkinä | Vanella |
| Danni | Jaanet | Raparperi (rhubarb) | Veera-Lotta |
| Eeta | Joaniina | Rosariina | Venla-Emilia |
| Eijamari | Jousia | Sirkkuli | Viivi-Maaria |
| Elmeriina | Katariine | Sirpi | Viivi-Olivia |
| Elsvig | Kehrä | Sisla | Vilhelmine |
| Endla | Kesä | Stine | Viljamaria |
| Enla | Kevättuuli (springwind) | Sunelma | Vilma-Emilia |
| Erona | Kissanminttu (catnip) | Suvetar (mistress of summer) | Vilma-Leena |
| Essia | Koivu (birch) | Säde-Tuulia (sun ray wind) | Vilmaliina |
| Eunike | Kultakukka (golden flower) | Taruliina | Virva-Tuuli |
| Felissa | Kyllevi | Tiinaleena | Werona |
| Gunfrid | Laili | Toora | Äänis |
Old Finnish girl names
I want to give you some rare old girl names, not just the regular ones. So here is a list of some names used over 100 years ago.
Adela
Alvina
Amilda
Eliise
Tähti
Valo
Kaiho
Viivia
Hilta
Leana
List of "oldish" traditional names:
Here are some names that were quite common to name as a girl name in 1930-1960 in my opinion and that I know plenty of who were born between those years. All of these names can be found in the Finnish name calendar.
| | | |
| --- | --- | --- |
| Aada | Aila/Aili | Aino |
| Aliisa | Alli | Alma |
| Anita | Anja | Anne |
| Annika | Aune | Birgitta |
| Eeva | Eija | Elina |
| Ellen | Elviira | Erja |
| Hanna | Helena | Helvi |
| Hilda | Hilkka | Ilona |
| Inkeri | Irma | Jaana |
| Johanna | Kaarina | Katariina |
| Kerttu | Kirsti | Kyllikki |
| Leena | Liisa | Lotta |
| Maija | Maria | Martta |
| Merja | Mirja | Niina |
| Oili | Onerva | Orvokki |
| Paula | Piia | Pirjo |
| Päivi | Raija | Raili |
| Rauha | Reija | Riitta |
| Ritva | Saara | Saima |
| Salme | Sanna | Sanelma |
| Satu | Seija | Selma |
| Siiri | Sinikka | Sirpa |
| Sisko | Soile | Susanna |
| Sylvi | Tarja | Teija |
| Tellervo | Terttu | Tuija |
| Tuula | Tuulikki | Tytti |
| Tyyne | Ulla | Varpu |
Names from Kalevala
Ainikki, in the Kalevala, is Lemminkäinen's sister. The character is based on the poem of Ahti and Kyllikki, whose characters and events Lönnrot adapted in connection with Lemminkäinen. In the poem, Ahti's sister is named Anni.
Aino, the young sister of Joukahainen.
Ilmatar is a female air spirit who appears in the Kalevala as Väinämöinen's mother and as a maiden of nature, daughter of nature.
Kyllikki is a coveted maiden from Saari, famous for her beauty, whom Lemminkäinen abducts to be his spouse.
Louhi is the female ruler of Pohjola.
Lyylikki appears in the poem "Hiiden hirven hiihdäntä" (Skiing of Hiisi's Elk) as the maker of "kalhut", which are skis.
Marjatta is the main character of the 50th poem in the Kalevala, who gives birth to a fatherless son after being impregnated by a lingonberry. The boy is baptized as the King of Karelia.
Mielikki is the female chief spirit of the forest.
Mimerkki is the name of the female chief spirit of the forest and a rare equivalent to Mielikki appearing in folk poems.
Tuulikki is the younger female spirit of the forest.
Vellamo is the mistress of the water and the spouse of Ahti, the water god.
Vetehinen refers to an evil water spirit. In the beliefs of Eastern Finland and Karelia, Vetehinen was conceived as a human-shaped water spirit. Vetehinen could cause diseases with its malevolent powers; on the other hand, it also brought good fishing luck.
Beautiful names in connection to Finnish nature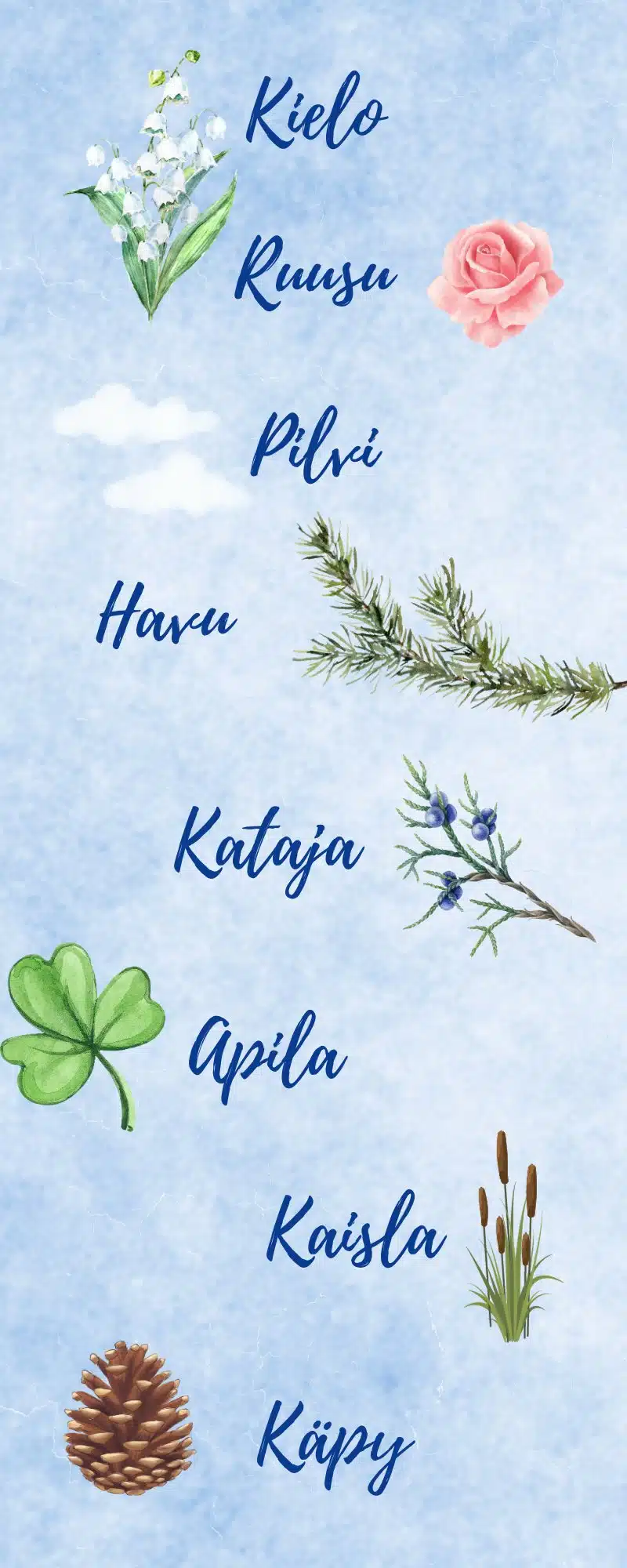 Lumi: "Lumi" means "snow" in Finnish, and this name is as pure and unspoiled as the snowy Finnish landscapes in winter.
Kielo: Meaning "lily of the valley," "Kielo" is a name deeply connected to Finnish nature. The lily of the valley is Finland's national flower, and it's a symbol of the lush woodlands. Kielo blooms in the springtime. It is good to know it is a bit poisonous so not to be eaten.
Metsä: This name means "forest" in Finnish. Around 75% of Finland's land area is covered by forest. "Metsä" is a name that speaks of a deep love for nature, an intrinsic connection to the earth, and a natural, quiet strength. It is, though not an ordinary girl name.
Tuuli: "Tuuli" means "wind." It's a name that conveys both gentleness and formidable power, much like the Finnish climate.
Ruusu: In Finnish, "Ruusu" means "rose," a universal symbol of love and beauty. We don't grow that much garden roses, but wild rose bushes grow in the coastal areas especially in Hanko beaches.
Pilvi: This name means "cloud" in Finnish. This gives the image of soft, wispy clouds of summer.
Vadelma: "Vadelma" translates to "raspberry." Much like the berry, this name is sweet and brings to mind warm, sun-kissed Finnish summers. We love to grow large garden raspberries. The gem is though the metsävadelma that is so sweet and has much flavor. It grows in edges of ditches and forests, on the banks of streams and roadsides.
Kastehelmi: Meaning "dewdrop pearl," this name is poetic in its essence. It's reminiscent of cool Finnish mornings when the meadows and forests are adorned with dew, a symbol of freshness, purity, and the quiet awakening of life.
Meri: "Meri" means "sea" in Finnish, indicative of the profound connection to our vast water bodies with extensive coastline.
Sade: Translating to "rain," "Sade" captures the replenishing and nurturing side of nature.
Kukka: Meaning "flower," this name is a nod to the abundant floral beauty in Finnish meadows and forests, especially during the short summers.
Halla: Derived from the Finnish word for frost, it evokes the crisp, chilly mornings of Finland and the quiet beauty of winters.
Aurinko: This Finnish word for "sun" is a celebration of the life-giving force of nature. "Aurinko" is a name full of joy and vitality.
Laine: Meaning "wave." Laine is a name that speaks of grace, power, and persistence.
Tähti: This name means "star," reflecting the clear, vast skies of Finland during those long, serene Nordic nights.
Ruska: A unique term used to describe the time when leaves change color in the fall, "Ruska" is a celebration of vibrant colors and the breathtaking beauty of Finnish autumns.
Korpi: Meaning "wilderness" or "deep forest," "Korpi" reflects the untamed, mysterious aspects of Finnish nature, invoking the country's dense, dark forests that are rich with folklore and ancient tales. Korpi is an uncommon girls name and could be used as a non-gender-specific name.
Myrsky: Meaning "mist," this name brings to mind the ethereal, gentle landscapes shrouded in morning fog, typical of the Finnish countryside, adding a touch of mystery and tranquility. Myrsky can be bots a girls and a boys name.
Sini: Derived from the word for "blue," it's reminiscent of Finland's clear blue skies, tranquil lakes, and the serenity that blue represents, making "Sini" a name that's both beautiful and calming.
Paju: This means "willow," a tree known for its flexibility and resilience. It's a symbol of harmony with nature, growth, and the strength that comes from bending, not breaking.
Aamu: Meaning "morning," Aamu reflects the tranquility and new beginnings associated with dawn.
Kesä: Signifying "summer," it brings to mind the warmth and abundant life of Finnish summers.
Suvi. Another meaning for summertime.
Säde: Translating to "ray" or "beam," it's reminiscent of sunlight breaking through the forest canopy.
Talvi: This name means "winter," reflecting the snowy landscapes that Finland is famous for.
Tuli: Meaning "fire," Tuli embodies energy and the life-giving heat, especially significant during cold Finnish winters.
Kuu: Signifying "moon," it's associated with the calm and mystery of night-time nature. Kuu is an uncommon name, but could be beautiful and unique.
Liekki: Signifying "flame," it carries connotations of passion and vitality.
Pyry: Signifying "blizzard," it's connected to the harsh yet beautiful side of Finnish winters. Pysy is also a name for both boys and girls, used most for boys.
Usva: Signifying "mist," it's related to the serene and mystical quality of Finnish landscapes in the morning or during seasonal transitions.
Name your baby after the four seasons
The Finnish four seasons are more than mere transitions of weather; they represent cycles of life, distinct palettes of nature, and the rhythm of time. Below some tips for you on naming your baby with the inspiration of the different seasons.
Spring
Among the beautiful Finnish names that capture the essence of this vibrant season are Mahla, Paju, Nuppu, Säde, and Taimi. Mahla translates to 'sap', the life-giving fluid that flows in birch trees, harvested in the spring. Paju is the Finnish word for 'willow', Paju branches are picked as part of Easter celebrations. Nuppu, meaning 'bud', perfectly encapsulates the promise of new beginnings, as buds bloom into vibrant flowers. Some Finnish spring flowers are esikko, hyasintti, sinililja (scilla), keltavuokko, krookus and lumikello. Maybe some of these flower names also gives you some ideas.
Säde, which means 'ray', evokes images of the first rays of spring sunshine breaking through the winter gloom. Lastly, Taimi translates to 'seedling', representing growth, potential, and the promise of what's to come. Each of these names carries with it the spirit of spring, making them perfect choices for a baby girl born in this season of hope and renewal.
Summer
Summer in Finland is a magical time, with its endless days, warm sun, and nature in full bloom. The season is not only a time of joy and relaxation but also a source of inspiration for some of the most enchanting Finnish names. Valo, meaning 'light', captures the essence of the long, luminous days where the sun barely sets. Or name your girl as Aurinko, the sun. Helle translates to 'heatwave', representing those rare but cherished hot summer days in Finland. The name Hilla means 'cloudberry', a golden fruit that ripens under the summer sun and is a sweet orange treat for many.
Lilja, meaning 'lily', evokes images of the delicate flower that blossoms in the warmth of summer, symbolizing purity and beauty. Pouta, which stands for 'fair weather', is reminiscent of clear blue skies and calm days. Suvi is the very embodiment of summer, as it translates directly to the season's name. Tyyni, meaning 'calm', mirrors the serene lakes and gentle breezes of a Finnish summer evening. Lastly, Tuomi, named after the 'bird cherry' tree, represents the fragrant blossoms that adorn the Finnish landscape during this season.
Autumn
Autumn in Finland is a breathtaking spectacle, with forests transforming into a canvas of fiery reds, deep oranges, and golden yellows. The season's beauty and transition are captured in names like Syksy, which directly translates to 'autumn', embodying the essence of the season. Ruska refers to the vibrant autumn foliage, a phenomenon that draws both locals and tourists to witness nature's grand display. The name Pihlaja (or its variant Pihla) is derived from the word for 'rowan tree', a tree that bears bright red berries in the fall, symbolizing the fruitful harvest of the season. Lastly, Viima, meaning 'cold wind', evokes the brisk breezes that begin to sweep across the land, hinting at the winter to come.
Winter
Winter in Finland is a season of contrasts, where the landscape is blanketed in pristine snow, and the nights are long and dark, illuminated only by the ethereal glow of the Northern Lights. Aurora borealis, the name for northern lights can give you inspiration for the name Aurora. Halla means 'frost', representing the delicate ice crystals that form on cold mornings, turning the world into a shimmering wonderland. Lumi, translating to 'snow', is the very heart of Finnish winters, reflecting the soft, white blanket that covers the land. Kuura stands for 'hoarfrost', the feathery ice formations that adorn trees and plants, making them glisten in the winter sun. Talvi is the Finnish word for 'winter', capturing the entirety of the season's spirit. Talvikki is a nice quite common name derived from Talvi.
Baby girl names that could also be lastnames
| | | |
| --- | --- | --- |
| Aarni | Kirsi | Salla |
| Aila | Kirsikka | Salli |
| Aira | Kukka | Sani |
| Ansa | Lauha | Sara |
| Aura | Lilja | Sari |
| Eeva | Lotta | Siiri |
| Ella | Louhi | Silja |
| Eira | Maila | Sirkka |
| Hanna | Malin | Soini |
| Hanni | Meri | Sointu |
| Heini | Marjo | Säde |
| Helle | Paula | Taimi |
| Helmi | Petra | Taina |
| Ilta | Pilvi | Terhi |
| Inkeri | Raita | Tiitu |
| Kaari | Rauha | Tuomi |
| Kaija | Rita | Tuuli |
| Kainu | Ruusu | Vanamo |
| Kaisla | Saila | Vaula |
| Kanerva | Saima | Vilja |
Source1,
Source2
How Finnish names are celebrated
In Finland, all the most common first names are marked in the almanac for a specific day, which is the nameday for people with that name. New names are added to the nameday calendar every five years.
The tradition of "nimipäivä" or "name day" is an cultural custom in Finland, similar to how birthdays are celebrated. Although the name day has lost its importance nowadays, but many people do give gratulations if it happens to be your name day. Some even celebrate with a piece of cake or small gift.
Common nicknames
Here are some popular Finnish girl names and their associated nicknames:
Annika - Ansku
Katariina - Kati, Katja, Riina
Maria - Maisa
Vilhelmiina- Miina, Vilna
Johanna - Hanna, Hannele, Hanni, Johku
Kristiina - Krista, Tiina, Stiina
Elisabet - Eliisa, Elisa, Liisa, Liisi, Elsa, Elina, Elma
Helena - Heli, Helka, Helmi, Hellu
Margareeta - Maarit, Reeta, Reetta, Margit
Sofia - Sohvi, Soffi
Tuulikki- Tuuli
Pauliina - Paivi, Paula, Pauli, Paavo
Anneli - Anne, Anniina
Riikka - Riksu
Susanna - Sanna, Suski
Tarja - Taru
Katariina-Kattis
Karoliina-Karo, Liina
Emilia-Emppu, Emmi
Juulia-Julle
Kyllikki- Kylli
Pauliina-Pallo, Pauli
Birgitta- Bittan
Marjaana- Maikki, Mallu
Isabella- Bella, Isa
Matleena- Madde, Matu
Adalmiina- Ada, Miina
Choosing the perfect Finnish name for your baby girl
Whether you're drawn to the serene landscapes, the deep-rooted traditions, or the melodic sound of the Finnish language, there's a name that will resonate with your heart. A name is not just a label; it's an identity, a legacy, and a reflection of the dreams you hold for your child.