Swedish Fish is a beloved fruit-flavored jelly candy that people of all ages have enjoyed for decades. Originally created in Sweden in the late 1950s, these gummy candies have become a staple in candy aisles around the world. With their iconic red color and fish-shaped design, Swedish Fish has developed a cult following among candy enthusiasts.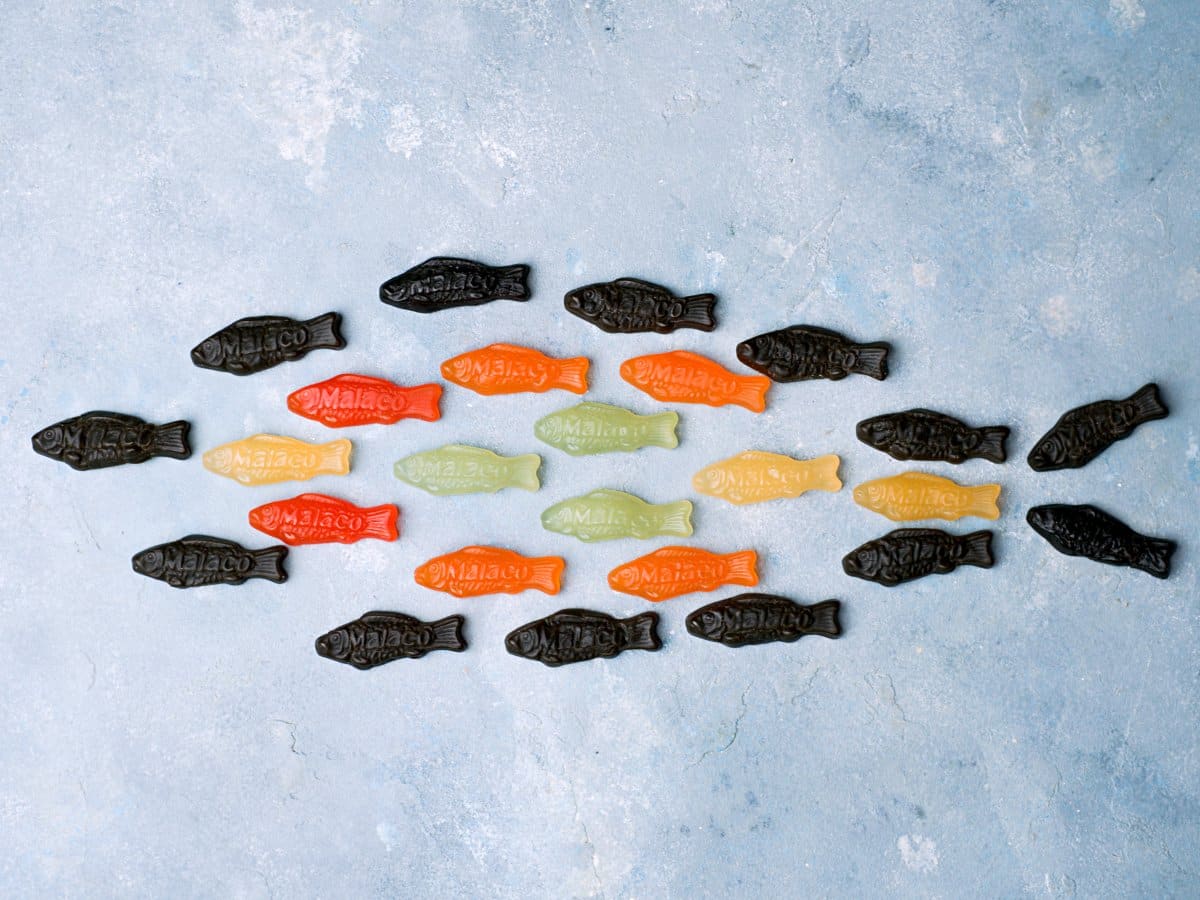 Some history
These candies were produced by a Swedish candy company called Cloetta from the year 1957. Nowadays Swedish Fish is a registered trademark of MalacoLeaf, AB, Sweden, used under license by Cadbury Adams. Malaco is a brand by Cloetta.
Cadbury Adams started to make these same types of candies year 2005. Instead of "Malaco," the word "Swedish" is written on the side of the fish.
Cloetta has some other famous candy brands you might be familiar with like Gott & Blandat, Ahlgrens bilar, Kexchocklad, Polly, and Läkerol. Cloetta has a long history in Sweden, which began in 1873. In 1934, a factory specialized in licorice started in Malmö, which later became Malaco. (source)
What is Swedish fish candy?
It is a chewy, gummy candy that is shaped like a fish and is typically bright red in color, although other colors are also available.
In the US, red-colored candies are the most famous. Here in the north the Swedish fish, pastellfiskar candies are sold in grocery stores as a color assortment consisting of red, yellow, orange, and green ones. Pastellfisk means a fish in pastel colors.
What is Swedish fish made of?
Swedish Fish candy is primarily made of sugar, corn syrup, and modified cornstarch, along with some flavorings and food coloring. Some varieties of Swedish Fish may also contain additional ingredients such as citric acid, which is often used to enhance the tartness of the candy. The exact recipe and ingredients may vary slightly depending on if they are produced in Sweden or the USA.
Ingredients for Swedish fish produced in the US
Ingredients for the red fish:
Sugar
Invert sugar
Corn Syrup
Modified corn starch
Citric acid
Artificial flavors
White mineral oil
Carnauba wax
Red 40
Ingredients for the assorted mix:
sugar,
corn syrup,
modified corn starch,
citric acid,
natural and artificial flavors,
white mineral oil,
carnauba wax,
red 40,
yellow 5,
yellow 6,
blue 1.
Ingredients for the Aqua life bag:
Sugar,
Invert sugar
Corn syrup
Modified corn starch
Citric acid
Natural and artificial flavors
White mineral oil
Carnauba wax
Yellow 5
Yellow 6
Blue 1
The Aqualife
Swedish fish candy is also made in different shapes than fish. The Aqualife bag presents fish and other sea life creatures as candy shapes. The consistency is a bit softer than the original Swedish fish has. In this bag you fins also some new flavors!
Red – Fish – Regular Swedish Fish Flavored, berryish
Yellow – Starfish – Lemon
Blue – Dolphin – Raspberry
Green – Whale – Lime
Purple – Pufferfish – Grape
Orange – Seahorse – Orange
Ingredients for Swedish produced
Glucose syrup
Sugar
Starch
Citric acid
Acidity regulator (E331),
Vegetable oils; (coconut, canola)
Flavors,
Surface treatment (beeswax),
Colors (E160e, E141, E160a).
E160e is an artificial orange-red color that is also found naturally in citrus fruits and spinach. It is though manufactured artificially. E160a is a carotenoid, a yellow-orange color that also presents itself in natural sources like carrots, greens, tomatoes, and apricots.
E141 is classified as chlorophyll and chlorophyllin copper complex. The color green-blue-black. It is manufactured from chlorophyll and some of the natural magnesium is replaced with copper that stabilizes the color. This has no recommended upper limits in consumption.
E331 is salt of citric acid. Citric acid and its salts occur naturally in many foods, especially citrus fruits. Citric acid is biotechnologically produced from, for example, molasses or glucose with the help of molds. Can be used for almost all foods that can be used with additives. (source)
The color in US-manufactured Swedish fish and the Swedish-produced Pastellfiskar is a bit different since the colors are not the same. The Swedish fish is a bit brighter in color. The pastellfiskar is more pastel-colored and more matte. Azo colors are not commonly used in Scandinavia.
Different flavors
The consistency of the candies is firm but chewy. They have a smooth, gummy texture that is consistent throughout the candy. You can easily take a bite of the candy so it is still quite soft.
Swedish Fish is known for its variety of flavors, but the most popular and iconic flavor is the red one. However, the actual fruit that this color represents is a subject of debate.
Aside from the red flavor, Swedish Fish also offers other fruity flavors such as pear, orange, and lemon, which are easily identifiable by their respective colors of green, orange, and yellow.
The Swedish version of this candy that Malaco makes includes a black licorice-flavored fish, which caters to the Scandinavian taste. My favorite one is of course the black licorice one since I am Finnish of origin.
Red
This is not too sweet. It has some tartness. Berry notes. I think it tastes a bit like lingonberry mixed with some sweet hints of cherry and raspberry or strawberry. It also resembles the taste of rowan berries, that grow widely here in the Nordic countries.
Green
I find this has a very queer taste. Maybe a bit of pear essence. Could even be some hints of kiwi. My least favorite.
Orange
Tastes like oranges or even more like clementines. Very fresh and has a strong taste. Even more taste than in the red one. It would even make a nice sauce when melted to ice cream with orange-colored stripes, a bit like orange marmalade flavor.
Yellow
Very lemony. Artificial taste. It has a very much taste and is fresh. Does not taste like real lemons in my mouth. But still quite pleasant.
Black
This one is only sold under the Malaco brand. Sweet licorice, very nice and not too strong licorice taste. Not at all like the Finnish salmiakki. Very addicting. I could eat a whole bag.
Fun fact: In 2016 Oreo made cookie flavor with Swedish fish 🙂
What flavor is Swedish fish candy?
Berry(lingonberry), pear, lemon, and orange. The Aqualife bag also has grape, raspberry, and lime flavors.
Why is Swedish fish candy called that?
The candy is shaped like a fish, and it has the text Swedish.
Is Swedish fish candy vegan?
The US produced are Vegan. Swedish produced not.
Swedish fish does not have gelatin. They have corn syrup, modified corn starch, and carnauba wax to get the gummy texture. Swedish pastellfiskar have some beeswax on the surface. These candies are btw gluten-free.
Do Swedish fish have red 40?
The US-manufactured Swedish fish does have red 40.
Fun Swedish fish stuff to buy
Are you a fan of this iconic candy? You might like these items: