Easter in Sweden is a time for celebrating spring and renewal. Popular traditions include egg hunts and colorful branch decorations, påskris. Traditional foods include pickled herring, fish, meatballs, lamb, Jansson's Temptation casserole, and the sweet drink, påskmust.
How do Swedes celebrate Easter?
Swedes have their own traditions that they look forward to every year. Below are some traditions. Most are a remain from pagan rituals. Nowadays, they are mixed with the Christian faith.
Easter bunny: This tradition originated from Germany in the late 1600s. The Easter eggs were called "hare eggs," and adults used it as a way to trick children into thinking the Easter Bunny laid the eggs they found in the garden. The tradition of the Easter Bunny came to Sweden in the late 1800s through German immigrants. Even today, it is common for parents to hide Easter eggs and tell their children that the Easter Bunny visited their house.
Påskkärring: Children dress up as Easter witches, "påskkärring" and go around the neighborhood to give out påskris and receive candy. According to old Swedish folklore, the Easter witch is a witch who flies to Blåkulla on a broomstick during Easter. In History, to scare away the witches, people lit fires and fired guns, which is still celebrated today in the form of Easter bonfires. A local Easter tradition that was common at the end of the 19th century and the beginning of the 20th century was to make a straw doll representing an Easter witch with clothes, a broom, and straight pins, which was then burned on Easter Eve.
Eggs. You will find eggs in various forms in whole Sweden. Painted chicken eggs, candy-filled cardboard eggs, decorative eggs, and chocolate eggs.
A historical egg game: Before Easter bunny egg hunt became popular, people used to play various egg games. One of the most popular egg games in Sweden is the egg-picking game that originated in the Middle Ages. Each participant has a hard-boiled egg that they should paint. The aim is to tap the top of the egg against their opponent's egg, and the person whose eggshell is still intact is declared the winner.
| Easter holidays | In Swedish |
| --- | --- |
| Mayndy Thursday | Skärtorsdag |
| Good Friday | Långfredag |
| Holy Saturday | Påskafton |
| Easter Sunday | Påskdag |
| Easter Monday | Annandag påsk |
Read also about Finnish easter foods and traditions.
What to eat on Easter
In history Easter meals were more simple and were based on pickled and preserved foods, since the long winter. When comparing Easter food to Christmas food, there are clear similarities. Herring, salmon, meatballs, Jansson's temptation, and cocktail sausages are all traditional components of both Swedish Christmas and Easter tables. Below some traditional Easter foods that are popular nowadays.
Pickled herring
There are many different types of pickled herring available, including sour cream and onion, mustard, and dill. Choose the one you like the most or try a variety to see which one you prefer. Here is a recipe for traditional pickled herring.
Pickled herring usually served on a platter alongside other traditional Easter foods, such as boiled eggs, cured salmon, and cold cuts. Potato salad is also a nice addition as an appetizer. Other accompaniments are crispbreads and crackers, rye bread, sour cream, and chopped onions or chives.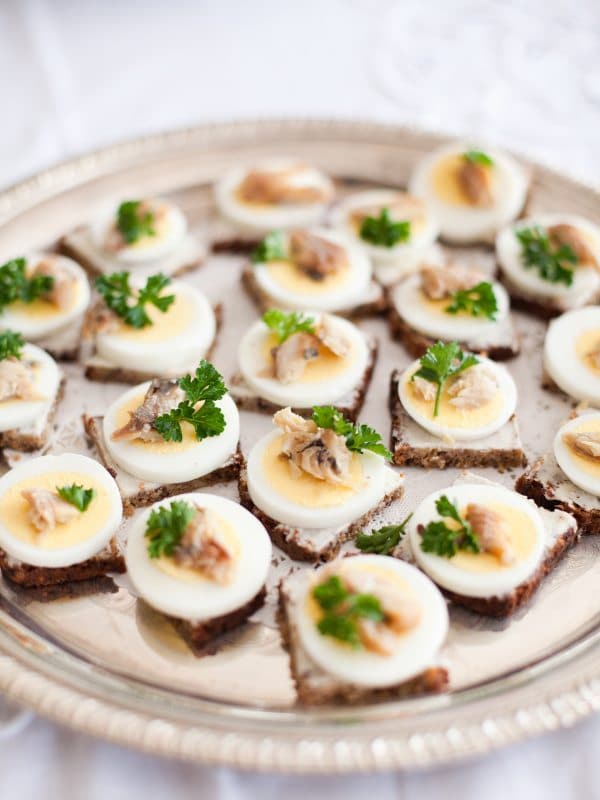 Eggs
In the past, hens would stop laying eggs throughout the winter because of genetics and the lack of food. However, hens would start to lay eggs again during Lent, but since people did not eat eggs during Lent, it resulted in an egg surplus during Easter. Although hens lay eggs all year round now, the tradition of eating lots of eggs during Easter remains popular.
Eggs can be served in various forms. Deviled eggs are quite common. Egg halves with prawns and dill are a favorite. Eggs are also used in baking.
Gubbröra
A dish that is commonly served as a starter or appetizer during Easter and Midsummer celebrations. The name translates to "old man's mix" in English. The dish is made from boiled eggs, pickled anchovies or herring, onions, chives, sour cream, and sometimes also potatoes.
Gubbröra is delicious as an appetizer on top of rye bread.
Västerbottens paj
This pie is very traditional Swedish pie. It is also eaten for kräftskiva the crayfish party. The pie is made with västerbottenost, a special strong cheese.
Salmon and fish
Fish was available year-round, which made it suitable as Easter food. Goof Friday was day of fasting, so in history gravlax or herring could be served. On Saturday or Sunday smoked salmon or fish was common, like haddock or whitefish.
Janssons frestelse
Janssons temptation, potato anchovies casserole is also a favorite for a smörgåsbord style Easter dinner. Surprisingly this dish is more common than Lamb
Meatballs
Even though many Swedish families make meatballs as everyday food, some like to eat these for Easter also. Meatballs made as small cocktail balls can be quite festive as a small appetizer. I once read an article that up to 17 percent of Swedes liked to eat meatballs for Easter.
Meatballs made with lamb meat are also quite common.
Prinskorv
In the second half of the last century, small dishes from the Christmas smorgasbord were added to the Easter table, like prinskorv and small cocktail meatballs. Prinskorv is a type of small cocktail sausage made from pork and beef. They are served as snacks or appetizers. These are also a kid's favorite for a main meal with mashed potatoes.
Lamb
Lamb roast is something that we associate with Easter today, but it is actually a completely modern tradition. The reason for this is that historically, all Swedish sheep gave birth at the beginning of the year, and by Easter, the lambs were so small they could not be eaten.
For those that choose lamb for the Easter table the import of frozen or chilled lamb roasts from New Zealand has been the choice, as they are half a year ahead of us in the breeding season.
Lamb is prepared in various ways for Easter, often in the form of lamb roast often seasoned with herbs and spices, especially mint.
Potatisgratäng
Potatisgratäng is a type of potato casserole made by layering thinly sliced potatoes and cream or milk, and then baking it in the oven until the top is golden brown and crispy. Other ingredients such as cheese, onions, garlic, and spices can also be added to enhance the flavor. Potatisgratäng is a popular side dish in Sweden and is served with lamb, prinskorv, or meatballs for Easter.
As dessert
As dessert a form of cake is common to make. Other sweet treats such as chocolates, candies, and Easter eggs during the Easter holiday are on the table. Some examples of cakes to make:
Lemon sticky cake ( a bit like kladdkaka but made with lemon taste instead of chocolate)
Swiss roll with preferred tastes
Passion fruit cheesecake
Lemon cheesecake
A tall filled layer cake
Different meringue cakes. (like this Brita cake)
Yellow dessert mousse with lemon or passion fruit
Easter semlor with lemon curd in the whipped cream
To drink
In Sweden, people traditionally drink a type of spiced malt beverage called "påskmust" during Easter. Påskmust is a non-alcoholic soda that is only available during the Easter season. It has a dark brown color and a sweet taste that is similar to root beer. Påskmust is typically consumed with Easter meals and is also served at Easter parties and gatherings.
A secret: Actually påskmust and julmust are the same drink but labeled differently according to season.
Another popular beverage during Easter in Sweden is beer. Many breweries release special Easter beers, which are often darker and spicier than regular beers. Some Swedes also enjoy drinking snaps, distilled spirit that is often consumed as a shot and flavored with herbs or spices. It is customary to raise a glass of snaps and say "skål" (cheers) before taking a sip.
FAQ
What is Easter called in Swedish?
Easter is Påsk in Swedish. Easter Sunday is Påskdagen.
What is påskris?
Påskris" is a Swedish Easter tradition that involves decorating branches with colorful feathers and ribbons. The branches used for påskris are typically made from birch and they are usually cut and placed in water to help the buds open and create a more festive look.
Is Good Friday a holiday in Sweden?
Good Friday, långfredag is a public holiday. Schools, banks, and many businesses are closed. Grocery stores and restaurants as well as many larger clothing stores are open. Systembolaget is closed Friday, Sunday, and Monday during Easter.