Here you can read about traditional Easter foods in Finland. These include mämmi, eggs, lamb, and fish as different dishes.
The Lenten fasting tradition is not practiced in Finland since this is not an orthodox country. Finnish Easter is a mixture of traditions, symbols, and old pagan rituals.
During the Orthodox fast, it is forbidden to consume meat, eggs, and dairy products. Many Orthodox Easter dishes and desserts are rich in eggs, butter, cream, quark, and other dairy products. Finland is heavily influenced by Eastern culture, so these dairy products and eggs are seen on the Finnish easter table.
Here is a list of foods and dishes common on the modern Finnish Easter table. Usually, 1 or 2 appetizers are served, one main with sides, and one dessert.
Read also about Swedish Easter foods and traditions.
Appetizers
A common theme for appetizers is egg, fish, or green/yellow colors.
Whole Asparagus. Asparagus can be prepared in an oven or boiled. Serve with hollandaise sauce. It can also be made with parmesan crumble in the oven.
Grilled asparagus. Serve with Finnish Aura blue cheese and pecan nuts.
Deviled eggs. Cooked half eggs topped with some filling.
Cesar salad. It is served with eggs and asparagus.
Home-made cottage cheese. Serve with crackers and, for example, mint jelly.
Silli. Pickled herring served with new potatoes and boiled eggs. Silli can also be made to a paste with onion and cream cheese and served with small rye crackers.
Cured salmon. Often served with archipelago bread. You can also make them into rolls with cream cheese.
Smoked salmon mousse with archipelago bread or crackers.
Fish roe. This belongs to the Easter table, often decorating some other appetizer.
Soups. Asparagus. Apple-celery soup. Fennel soup.
Salad with oranges and cottage cheese
Mains
Roasted lamb with mint
Lambchops
Lamb stew
Lamb ragu with pasta
Rabbit stew
Roasted duck
Whole roasted chicken
Spring chicken in the oven
Fileed chicken filets
Oven-baked salmon
Fried salmon filet
Smoked salmon
Hasselback potatoes
Roasted root vegetables
Garlic cream potatoes
Risotto with lemon and asparagus
Orange risotto
Desserts
Mämmi. Malted rye porridge served with sugar and cream.
Finnish Easter eggs. Most known are the mignon eggs with real eggshells. Chocolate eggs are enjoyed as dessert. Suklaamuna.
Pasha. This Russian-origin dessert tastes like quark, cream, almonds, raisins, and lemon. Sometimes it is made with a twist like adding passion fruit to it.
Pasha pavlova.
Rahkapulla- Finnish buns with quark and often raisins or canned peaches.
Lemon-meringue pie. Sitruunamarenkipiirakka.
Mango cheesecake. Mango puree is often used in desserts. It makes lovely yellow cakes.
Brita cake made with mango, peaches, or oranges.
Swiss roll with mangoes and whipped cream. Kääretorttu.
Cheesecake decorated with chocolate eggs. Juustokakku.
What is mämmi?
Mämmi is a traditional Finnish Easter dessert made from rye flour and malted rye. It is a type of rye porridge. Some flavor it with orange zest. It is baked overnight in the oven, and in the process, it sweetens naturally. Mämmi is served chilled with sugar and cream.
Mämmi is very soft and has a pretty silky texture. The flavor can remind you of a very dark malted beer. Even though Mämmi is dark brown, it has no chocolate.
Mämmi is rarely baked nowadays in Finnish homes since you can buy it in every grocery store. Mämmi is often used in different Easter desserts, for example:
Mämmicake. Cakes with mämmi are typical.
Mämmimudcake. Chocolate lava cake with mämmi.
Mämmimousse. Cream and mämmi whipped together.
Mämmi ice cream.
Remember that mämmi is sold frozen around the whole year in larger supermarkets, so try it when you visit Finland.
See the recipe for mämmi in Scandicuisine if you want to make it at home.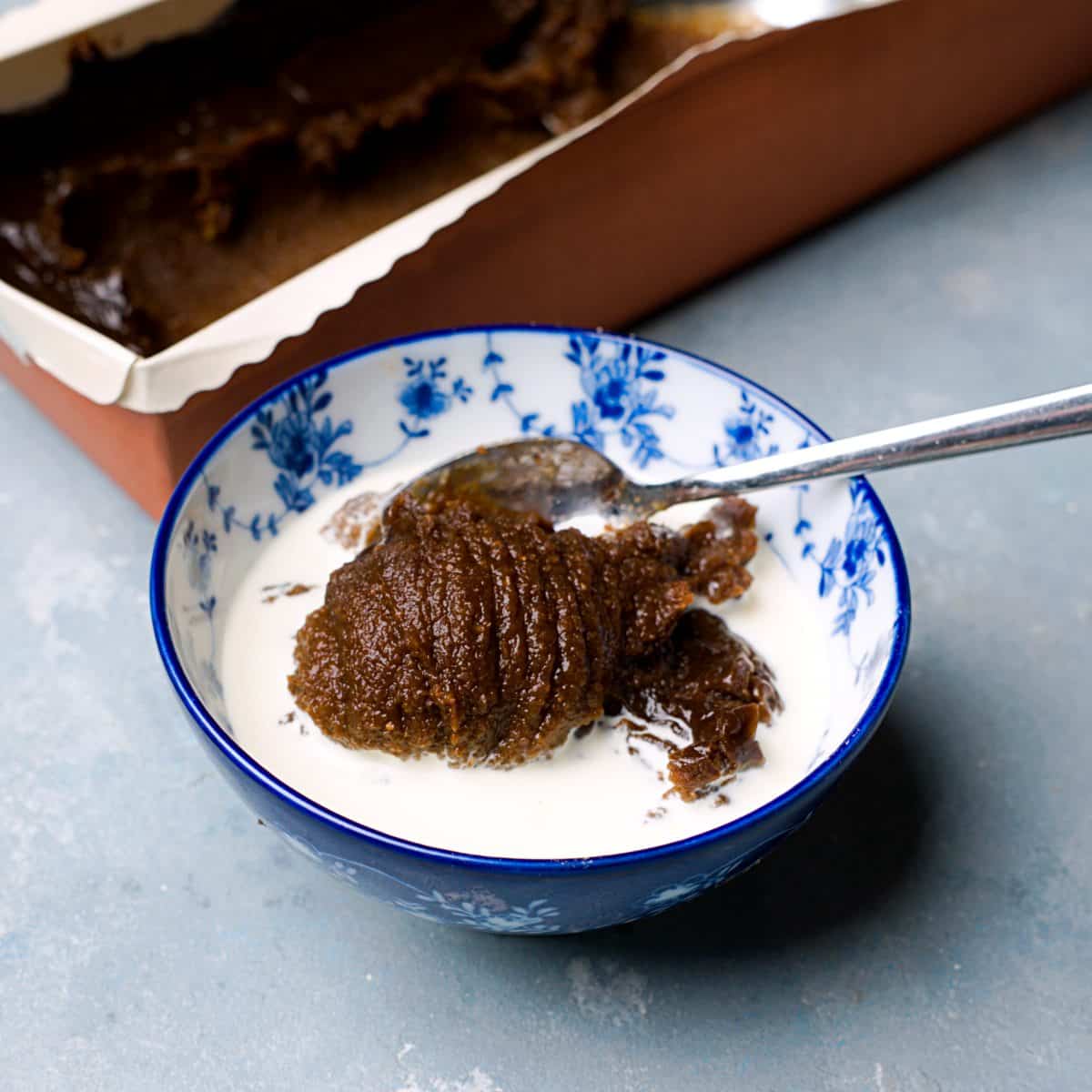 Symbols at the Easter table
Lamb in different forms is the most traditional main course at the Easter table. It symbolizes the sacrificial death of Christ.
Eggs are considered a symbol of resurrection. Decorated Easter eggs became known in Finland through Russia and the Orthodox people. Eggs look like rocks with hard shells, but they have the beginning of a new life.
Eggs are also seen as a symbol of the grave of Jesus. Chicks are seen as the symbol of the resurrected Jesus.
Mämmi has an origin in the unleavened bread on the Jewish table.
Decorations on the table
Eggs: The table is often decorated with painted or colorful eggs and chicks.
Bunnies: Bunnies are also used as decorations. This tradition comes from Eastern Europe. It is some old pagan beliefs mixed with Easter traditions. In medieval times bunnies were sacrificed to the goddess of spring. They were also the symbol of fertility. Later on, bunnies became popular kids' figure that hide eggs.
Willow cat branches: Willow cat branches are picked during Easter time and used as decorations also. In Finland, they have been the symbol of the palm leaf since it is the only thing growing after the winter with a branch.
Rairuoho sowed grass. This is a somewhat new trend. The grass is planted in small jars, and tiny bunnies or chicks are inserted into the landscape.
Narcissus flowers. These yellow flowers are most commonly used as flower decorations in Finland.
Some like to include symbols of colors in their decorations. Green, yellow, and other bright colors symbolize hope, growth, and new life. Purple is the color for repentance. White is used to symbolizing joy and resurrection.
Common questions about Finnish Easter food
What are the most traditional Finnish Easter foods?
Roast lamb, eggs in different forms, both salty and chocolaty. Fish is also part of the Easter table. Mämmi rye porridge as dessert and pasha quark.
When is Easter in Finland?
The first day of Easter is celebrated on the Sunday following the full moon after the equinox, which is why Easter varies from 22 March to 25 April in different years.
What is Easter in Finnish?
Easter is called Pääsiäinen. It means getting out of fasting (päästä paastosta), and Mikael Agricola invented the word.