A Finnish breakfast is very different compared to, for example, a French breakfast. It is more savory than sweet. Let's look at some common things we Finns love to eat for breakfast.
In short, a typical Finnish breakfast includes cereal or porridge, open-faced sandwich with butter, cheese, ham, and cucumber. In addition, we often have some form of dairy product, such as milk, yogurt, or cottage cheese. Not to forget about coffee, several mugs of it.
Tip: Follow my Instagram to get a peek on Finnish/Swedish life and more breakfast pics.
History
Finns have eaten cereal products throughout history as breakfast, like porridge or bread. Milk as a drink was a part of breakfast. Coffee was, however, expensive and included only at festive dinners.
Did you know that aamupala and aamiainen meant different things in history? Aamupala was something enjoyed in the early morning before going out and milking the cows and doing the early morning chores. Then at around 9, it was time for aamiainen. For long, the word aamiainen referred to a meal served between 9-12. After 1920 the word lounas=lunch became more common. Nowadays, aamiainen is the same thing as aamupala, both meaning breakfast. Lunch is lounas and a brunch, brunssi is a late breakfast served for example on weekends.
The more modern way of eating breakfast with a variety of foods like eggs, butter, milk products, and fruit became more common in the 1920s. Coffee was also a part of the breakfast table at this point. Only at war times was coffee rationed.
Nowadays
Weekday mornings in Finland can be busy, with many people rushing to get to work or school starting at 8 or 9 o clock. As a result, we tend to opt for a quick and easy breakfast, such as a bowl of cereal with milk, porridge, or a couple of slices of rye bread with cheese and cucumber, or meetwursti.
At kindergarten, kids get breakfast, so many eat there at 8 o clock. It consists of porridge, milk, crisp bread=näkkileipä with butter, cold cut, and a slice of fruit. Those at school or work eat at home or work. School children start their day at 8 or 9 so a quite regular breakfast time in Finnish homes is around 7-7:30.
On weekends, we often take time to enjoy a more leisurely breakfast, typically involving a larger spread of food and more time spent eating and socializing. Weekend breakfast consists of savory items, but it is not uncommon to eat some sweet things also like pancakes or pulla. Sweet berry and fruit yogurts are also common item on the breakfast table.
What to drink at Finnish breakfast
Coffee, lots of black coffee! Filter coffee is most common as a light or medium roast. But not all drink coffee, many like a cup of tea. I like them both. Juice is also enjoyed in most families, either orange juice or apple juice. Kids also love a cold cup of milk, fat-free milk is most used as a table drink.
Piimä, sour milk is something some older people like, even as a breakfast drink. My husbands mother eats piimä with some musli every morning if she does not boil some porridge.
Smoothies are also enjoyed in modern homes. A very Finnish smoothie is made with piimä or yogurt, frozen blueberries, a sprinkle of oats, and some sugar or banana.
Finnish breakfast foods
Below are listed some traditional Finnish breakfast foods. If you would like to serve a Finnish-style breakfast for your friends or family, then reserve at least some bread with savory toppings like cheese, cold cuts, cucumber and tomato slices, porridge, yogurt with berries, and boiled or scrambled eggs.
Porridge-Puuro
Different types of porridge are a staple breakfast food in Finland. Oat porridge-kaurapuuro is maybe the most common type of them. It is typically made from rolled oats, water, and a pinch of salt, served with a knob of butter and a dash of milk. Some like it with strawberry jam or a berry soup.
Similar to oat porridge is rye porridge cooked from rolled rye or a mixed grain porridge from rolled grains. These are quite fast to make into porridge taking only 5-10 minutes.
Milk porridges are also common; Mannapuuro-semolina porridge and riisipuuro-rice porridge. These have a longer cooking time, so they are not usually cooked on busy mornings, other than an oven-baked version that is the whole night in the oven. Many Finnish homes have a leivinuuni-special type of masonry oven, perfect for having things in it overnight on residual heat. Milk porridges are also made using rolled grains. A quick version of rice porridge is made from rice flakes.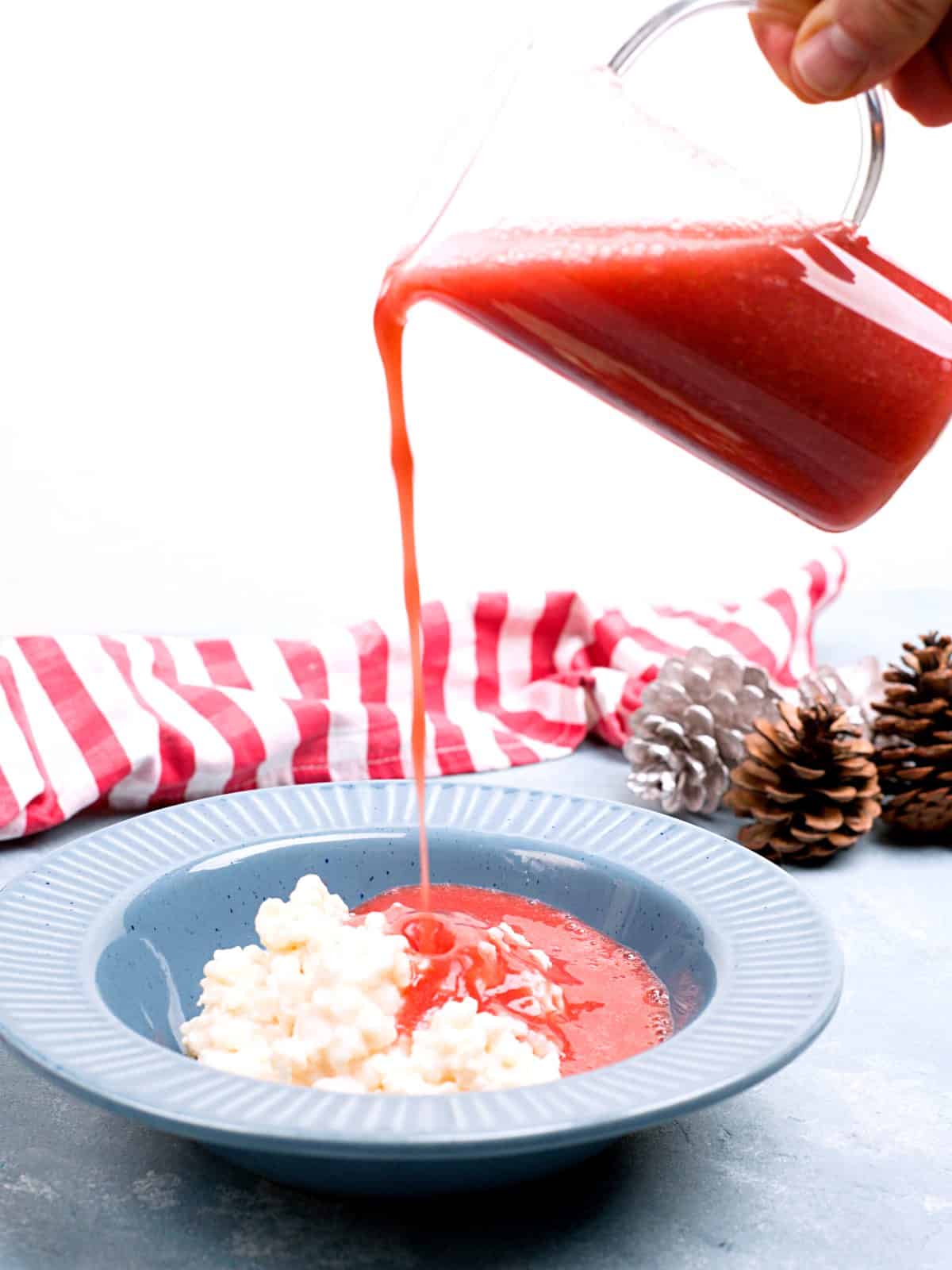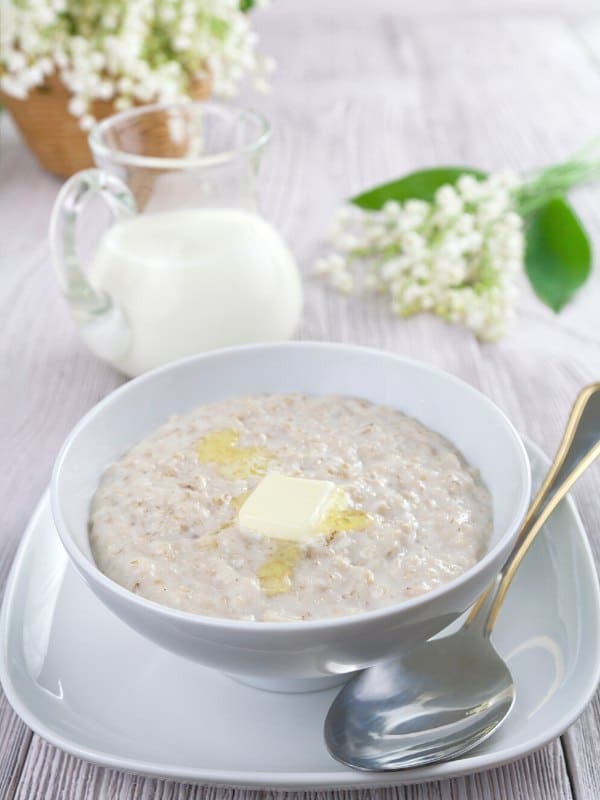 Porridge toppings
Butter, cinnamon, and sugar
Berry jam.
Frozen Finnish berries
Berry soups-marjakeitto. Stores sell a variety of these. It is a like a thickened juice. A bit like kiisseli.
We usually eat oat porridge with frozen blueberries and some sprinkled cinnamon.
Rye Bread-Ruisleipä
Rye bread is a staple in Finnish cuisine and is a staple of Finnish breakfast. It is often served with cheese, ham, and other toppings like cucumber, tomato, or bell pepper. The sourdough version is a must-try for anyone visiting Finland. The most common types of rye breads are ruispalat, reissumies and ruispuikulat.
Want to try some simple recipes at home? Then try my archipelago bread or simple rye flatbreads.
Crispbread-Näkkileipä
Hard bread in different forms is also common. It is eaten with similar toppings as rye bread. Many people also like maksamakkara, liver patee, a type of spreadable liver sausage on their bread or crispbread. Types of crispbreads are for example koulunäkki, varrasleipä and round polar näkkileipä.
Oat bread- Kauraleipä
Many Finns have moved from eating rye into eating oat bread, especially those who have a more sensitive tummy. Rye, like wheat contains FODMAPS, so not all people can eat it. since Finland grows a lot of oats, oat bread is also popular to eat. Many oat breads are gluten free if they are 100% made from oats. You need to read the labels, since many oat marked breads have added wheat.
Flatbread-Rieska
We finns love different types of flatbreads. Some types are lapinrieska, perunariska, ruisrieska and ohrarieska. Rieska can be eaten as fresh from oven with just butter or as an open-faced sandwich with cheese and cold cuts.
Sandwich toppings
Here is a list of popular things to have on your sandwich
Kinkku- there is many ham cold cuts with variations on smoked and non smoked
Kalkkunanleike-Turkey cold cut
Broilerinfilee-chicken cold cut. Same word is used for the fillets also.
Poronkylmäpaisti-reindeer cold cut
Graavilohi-cured salmon
Kylmäsavulohi-smoked cured salmon
Lämminsavulohi-Smoked salmon(cooked)
Kermajuusto-hard creamy cheese
Savujuusto-hard smoked cheese
Edamjuusto-Edam cheese
Tuorejuusto-soft cream cheese
Keitetty Muna-hard boiled eggs. (usually as sliced on sandwich)
Kurkku-Cucumber
Tomaatti-Tomato
Paprika-Bell pepper
Sipuli-Onion
Salaatti-Lettuce
Fun to know: Finns always argue whether to put the cheese or the ham first on a sandwich. It's like the toilet paper-which way should the roll be..
Eggs-Kananmunat
Eggs in different forms are a popular choice for breakfast in Finland. They are usually served as scrambled or boiled. Poached eggs are more uncommon. People do also like different types of omelets. The Finnish way of eating an omelet is with smoked salmon and chopped chives.
Karelian Pastries-Karjalanpiirakka
These are traditional Finnish pastries filled with rice pudding and eaten with egg butter. Egg butter is made from hard-boiled eggs mashed and mixed in butter. These types of pastries are also made with potato mash and rice and carrot filling. The ones in the picture are called sulhaspiirakka, small rice pastries often served at festivities. You can buy these in the freezer, in stores. These I made for breakfast in the air fryer.
Yogurt and berries-Jogurtti
We love to eat unsweetened yogurt with berries and musli. Viili is also a popular Finnish yogurt-like milk product. Viili can be eaten both as unflavored with some sugar and cinnamon or as a berry/fruit flavored product. Viili was made in the past at home but nowadays, most buy it at grocery stores.
We also love
We do love American, English, and continental things on our breakfast table also
Toast and marmalade
Croissant with cappuccino. Especially with savory fillings
Corn flakes with milk
Granola
Musli with milk
French toast
Waffles
American pancakes
Finnish Hotel Breakfast
Here are some typical items served at a Finnish hotel breakfast. Sometimes it is nice to go eat only breakfast at a hotel without staying overnight.
Porridge-usually a steel cut oat porridge. You might even get overnight oats.
Cereal bar with muesli, granola, rice crisps
Yogurt-you find sweet one and an unsweetened one
A berry mix of Finnish berries-usually thawed frozen berry mix
Selection of breads-Rye bread, toast, white breads
Spreads: butter and cream cheese, maybe even hummus, nutella, honey, jams, marmalade
Cheeses; Edam cheese, hard cream cheese, cheddar, smoked cheese, and even brie.
Cold cuts like ham and salami
Smoked or cured salmon
Tomatoes, cucumber, and lettuce
Scrambled eggs are usually made as a baked oven version
Boiled eggs
Bacon
Small sausages and maybe meatballs
Karelian pastries
Fruit salad or cut fresh fruit
Light-roasted filter coffee. Many hotels also have coffee machines. Espresso is not served, you have to order it separately.
A selection of teabags
Juices and smoothies. Orange and apple juice from concentrate. Maybe a small tyrni-shot and some smoothie.
Desserts like pulla, cinnamon rolls, some berry pie, small donuts. The dessert selection is usually not very wide.
Some hotels also serve chia pudding, pancakes, waffles, croissants, smoked muikku, cottage cheese, nuts and dried fruits, muffins and pies. Do take into note that not all hotels have this wide selection of items.
Many hotels have a selection of vegan alternatives. When I stayed at a spa, they had their own little fridge for vegan cheeses, cold cuts, hummus and oat barista milk.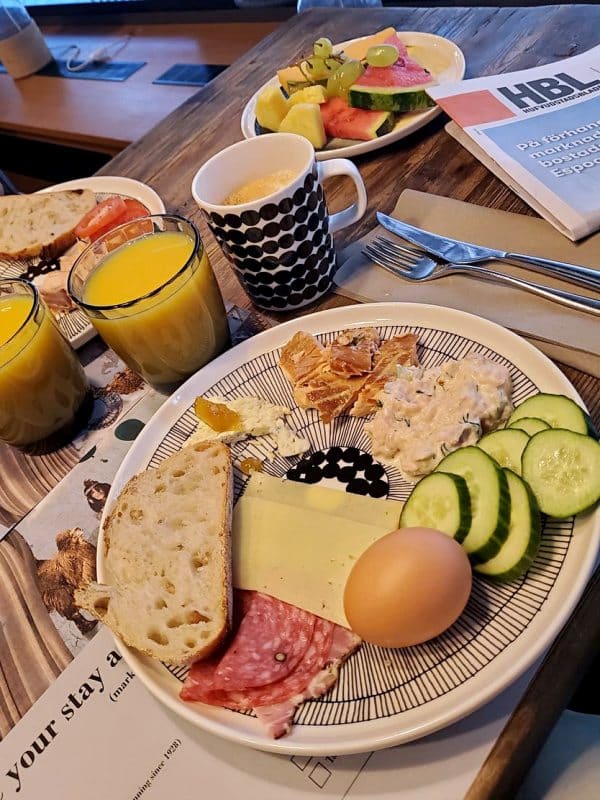 Best hotel breakfast recommendations in Helsinki
Here are my top picks for a hotel stay in Helsinki if you want to enjoy a very nice breakfast. Listed some specialties they have on top of the regular Finnish type of breakfast.
Links go to the booking.com page where you can check prices for overnight or just breakfast. Breakfast prices in Finland are between 20-40 euros depending if it is a weekday or Sunday brunch.
Breakfast vocabulary
Hyvää huomenta-good morning
Nukuitko hyvin?-did you sleep well?
Kaunis päivä tänään-a beautiful day today
Mitä ajattelit tehdä tänään-what were you thinking on doing today?
Minne menemme tänään-where are we going today?
Haluaisitko xx- would you like to have xx
Kiitos paljon-thank you very much
Voi korjata pois kiitos-you can take this away, please
Syömmekö aamiaista?-do we eat breakfast?
Mennään syömään aamiaista-Lets go and eat breakfast