A milk-based porridge cooked with short grain starchy rice and served with cinnamon or a mixed fruit soup. Finnish rice porridge is similar to Swedish rice porridge and other Scandinavian rice porridges. We do not bake leftovers into a pudding, but instead, use them in Karelian pies.
It is as common to make rice porridge in the oven and on the stovetop. Rice porridge is a traditional Christmas dish, but it is eaten whole year round as breakfast. This is even a common lunch at schools, served with some fruit soup.
We do not have a custom of baking the porridge leftovers as pudding. Although rice porridge baked in the oven has a very pudding consistency. We, however, use leftovers for oven pancake, and on the Åland island, they sometimes make a pancake where the main ingredient is rice porridge or semolina.
Traditions
Most people eat rice porridge on Christmas eve as a late breakfast. One common tradition is to hide an almond in the porridge. Whoever finds it is to have a successful next year. This tradition spread from Sweden to Finland. Some believed the good fortune was to be wed or have a child. In some families, whoever got the almond had to write a poem to the guests.
Porridge has always been a staple food in Finland. When boiled in milk, it became a more festive food. Making Christmas porridge from rice became common only in 1900, and only the more wealthy ones could afford rice.
Barley porridge was more common to make. In Eastern parts of Finland, it was more common to make the porridge in the oven, and in western parts, it was boiled. (source) Nowadays, I don't actually know any differences in traditions location-wise. My mum used to make rice porridge quite often, both in the oven and on the stovetop.
Ingredients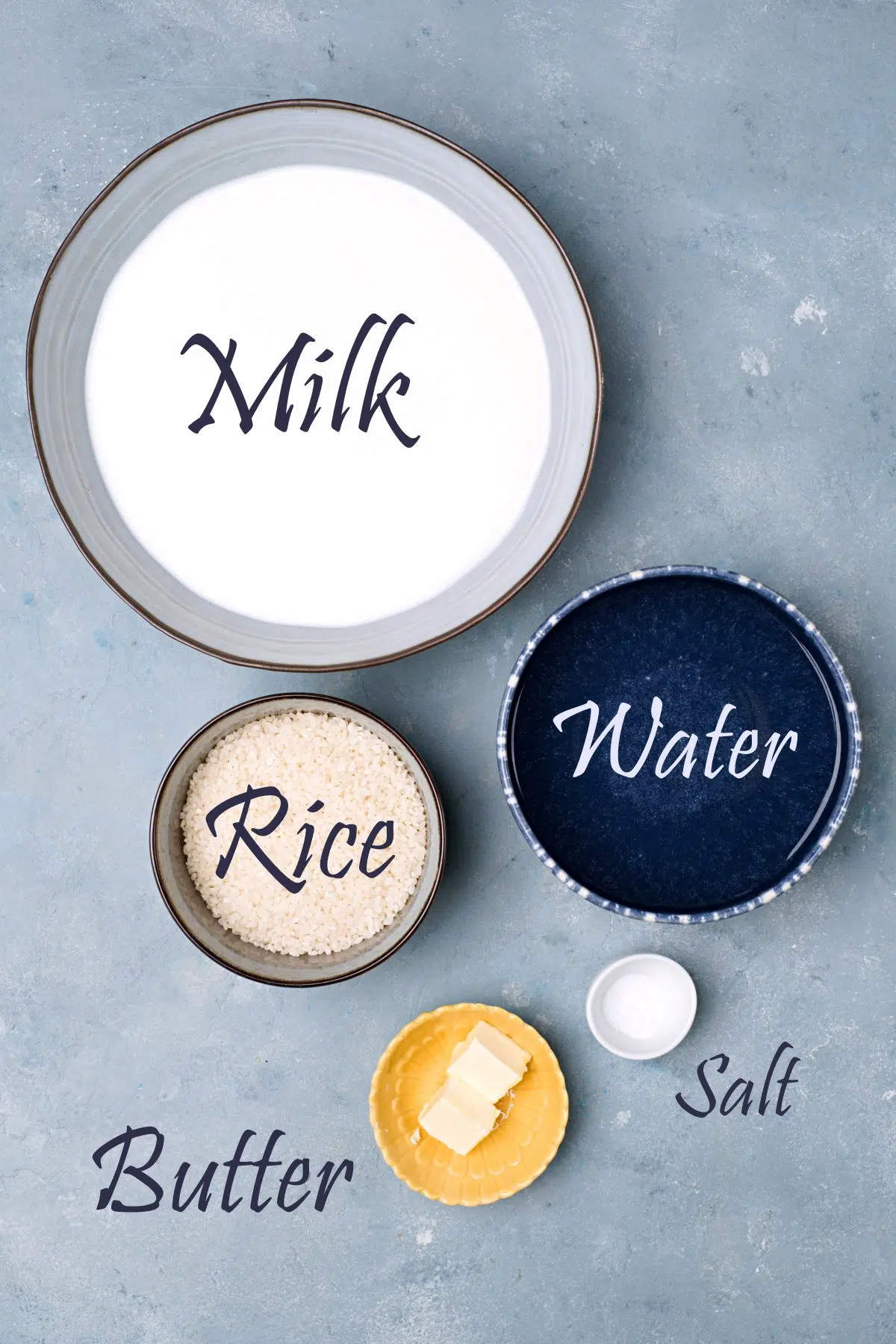 Full-fat milk is traditionally used since fat-free milk makes a more gray-looking porridge in color, it also burns more easily and does not taste as creamy. I think milk with a fat content of 1,5% and up is ok to use. Full-fat milk in Finland has 3,5% fat; it is sold in red cartons and is called täysmaito. You can even mix fat-free milk and heavy cream.
How to make
Bring the water to a boil in your large pan. Water is used in the recipe so the milk proteins do not burn right at the beginning.
Add the rice, water, salt, and butter. Bring to a boil, then lower the temperature to medium heat.
Let the water absorb into the rice, so it thickens up a bit, this takes about 5 minutes. Then you can add the milk.
Let your porridge simmer on medium to low heat for around 40 minutes so that the consistency thickens up.
The porridge has a looser consistency when hot, but it thickens pretty much when it cools a bit.
Milk porridge burns quickly so remember to stir it once in a while! A nonstick pan can be very handy.
My favorite, if I am cooking a very large amount and need to keep it warm, is to make it in *an 8-quart double boiler set. This is what I used when working at a nursing home and making porridge in the morning that had to be kept on the stovetop for hours. It is perfect since it does not burn if you have water in the lower pan.
Storing and reheating
Store leftovers in the fridge. In Finland, when it is cold, we can keep the porridge outside. It stores for around 3-4 days. Reheat your porridge in a pan, but add milk to it when reheating, so you get the right consistency to it.
To serve with
Traditionally rice porridge is served with cinnamon and sugar and maybe a splash of milk on the side to cool down the steaming hot porridge. Another common side is to serve it with a sweet plum sauce. The plum soup is boiled from dried plums, water, and sugar and thickened with some starch.
The third option is a so-called sekametelisoppa. Translates as "mixed noice soup", but it is a mixed dry fruit soup. Boiled in the same method as plum soup but from different dried fruits. They are usually sold as a ready mix in the store. The soup consists of plums, apples, pears, and apricots. Some mixes also have dates, raisins, and peaches. Dried to be a bit soft, not dry and hard.
You can find it in the store under the name kuivattu sekahedelmä, and the fruits can be eaten as a snack also. The soup is a type of kiisseli. It can be eaten on its own as well with some whipped cream.
This fruit soup is a very Finnish thing. It was luxurious to eat rice porridge with fruits when the times were poor in history.
Rice porridge is even enjoyed with different fruit soups called kiisseli. See the recipe for strawberry kiisseli.
Recipe for fruit soup-sekametelisoppa
1 bag of mixed semi-dried fruits consisting of plums, pears, apricots, and apples. (250grams)
4 cups water
¼ cup sugar
2 tablespoon potato starch + ½ cup water
1 cinnamon stick.
Boil water, fruits, cinnamon, and sugar in a pan for 10 minutes on medium heat.
Mix the starch into a small amount of cold water, and add it while mixing simultaneously. Let it bubble up and lift to cool down.
The fruits are usually left as big chunks in the soup, but some like to use a hand mixer and puree it into a smooth consistency.
Serve it with rice porridge or on its own when cooled down with whipped cream.
One variation is to boil it in an alcohol-free mulled wine, Finnish glögi.
Tip: Use the leftover to make delicious oven-baked rice pudding.
What to do with leftover rice porridge?
I love to make a big batch of porridge. The leftovers are great to use in other Scandinavian desserts.
Try, for example, Appelsiiniriisi-Orange rice or also called Rice a la malta. It is a dessert made from whipped cream, cold rice porridge, and fresh oranges.
Oven-baked rice pudding with almonds is also delicious.
Rice porridge can also be added in the batter of Finnish oven-baked pancake-pannukakku. We also bake Karelian pies from rice porridge-it is used as filling in the rye crusted small pies.
FAQ
What country eats porridge on Christmas?
Rice porridge is eaten during Christmas in Finland, Sweden, Norway, Denmark, the Faroe Islands, and Iceland. When it is eaten varies; some eat it as lunch on Christmas eve, and some as breakfast, lunch, or dessert on Christmas day. Leftovers are baked into pancakes or pudding and eaten as a dessert.
What if you burned your rice porridge?
Do not stir the burnt bottom so it mixed with that whole amount. Save what you can. Add water to the pan and scratch the burnt part gently away. You can bring your pan to a boil with a mix of washing powder and water, let it cool, and scratch a stainless steel pan with a scouring pad.
What spatula is best for porridge?
A wooden spatula is perfect for rice porridge. Leave it on top of your pan lying across, and it will prevent the milk from boiling over.
Other Finnish holiday recipes
Finnish rice porridge
This is a traditional white porridge boiled on a stovetop.
Equipment
1 large pan. A thick bottom or nonstick is good. A double boiler prevents from burning.
Ingredients
1½

cup

water

¾

cup

porridge rice (short-grain round starchy rice)

1

tablespoon

butter

⅓

teaspoon

salt

3

cups

full-fat milk
Instructions
Bring the water to a boil in your large pan. Add the rice, water, salt, and butter. Then you can add the milk.

Let it boil, then lower the temperature to medium heat. Let the water absorb into the rice so it thickens up a bit, this takes about 5 minutes.

Let your porridge simmer on medium-to low heat for around 40-45 minutes so that the consistency thickens up and the rice feels soft when eaten.

Serve with cinnamon, sugar, and milk. Also, plum- or fruit soups are traditional additions.
Notes
If you use a double boiler pan set with water in the bottom pan it might take a longer time to cook your porridge. 
Plant-based milk is an option for a milk-free, vegan porridge. Replace butter with margarine or leave it out. 
Store leftovers in fridge and reheat in pan adding some milk to it since it thickens a lot when cooled down. 
Nutrition
Serving:
1
portion
Calories:
273
kcal
Carbohydrates:
46.7
g
Protein:
13.4
g
Fat:
16
g
Saturated Fat:
10
g
Sodium:
946
mg
Fiber:
0.9
g
Calcium:
461
mg