This spice blend is perfect for holiday baking, it gives such nice cinnamon and ginger taste to all your baking and drinks. This is also a nice gift-just put it in a pretty jar and add some ribbon or a self-made label.
The Finnish spice cake-maustekakku is flavored with this spice blend if you want to check the recipe.
What is so special to this mix?
This is actually quite a different spice blend compared to the American or the famous German one-Lebkuchengewurtz. This spice mix gives a really Scandinavian taste to your baked goods.
This mix does not have anise or allspice. Those spices give flavor profile to many other gingerbread spice mixes. Mostly you can taste cinnamon, cardamom, and ginger. Cardamom is used in Scandinavian baking a lot; like in Finnish pulla or Swedish cardamom cake.
What is missing?
Actually, we also have one more secret ingredient in Finland and Sweden in our gingerbread mix. That is pomeranssinkuori, pomerans- bitter orange peel. (Citrus x auranticum). This is also known as Seville orange. English orange marmalade is also made from this type of orange. In Scandinavia, we use the peel in dried and ground form.
Gingerbread spice blend is not the only thing we use bitter orange peel for, it is also used in Christmas bread and mämmi(an Easter dessert). In Denmark, this orange type is mainly used as a candied version in different desserts.
In many parts of the world, bitter orange is only used as a spice and condiment but is also used as a dietary supplement, especially in the US (before). Now, the active substance found in bitter orange, synephrine is banned by the FDA. (source) I suppose this is why the ground spice is not commonly sold either. You can though buy marmalade, essential oil, and bigger peel chunks of bitter orange on amazon.
Of the above-listed reasons, I have sadly left the bitter orange away from my recipe, so most people could make it from ingredients easily bought from local stores. If you can get your hand on dried ground bitter orange peel, then add a teaspoon of that also in the spice mix.
One place you can order pomeranssi is from Suomikauppa.fi. -a webstore with Finnish and Scandinavian items.
But even without bitter orange, this mix tastes really good!
Ingredients
Cinnamon. You can use cinnamon sticks and grind them or use ready powder.
Cardamom. You need the green pods, do not use black cardamom since that one tastes very different.
Dried powdered ginger. This gives some warmth to the blend, but no it is not as hot as fresh ginger is.
Nutmeg. Use ground or a whole nut that you grate powder yourself.
Cloves. Whole cloves can also be used if you have a spice grinder.
Nutmeg and cloves are more overpowering spices tastewise, and that is why they are added in a smaller amount. Make this mix once and then you can adjust the amounts to your own taste. Even a little hint of allspice can go with the blend if you want to experiment.
What type of cinnamon is best for gingerbread spice?
Did you know there are different types of cinnamon?
The one I used is Cassia cinnamon. This has a more "cinnamon" taste to it and is also more commonly used. (also cheaper)
The other common type is Ceylon cinnamon. This type you can use, but it gives less of a powerful cinnamon taste and that is why you can add an extra teaspoon of it.
So, the difference? Cassia cinnamon has actually a mildly poisonous compound called coumarin. Young children should not eat too much of it-it can damage the liver in large amounts.
If you make a lot of baking with cinnamon that your kids eat, then use Ceylon cinnamon, and you will be safe on that account. Ceylon cinnamon is also usually organic.
Instructions
If you don't use ready ground spices you need to grind them first with a spice grinder. Spice grinders are separately sold, but I have an additional part to my hand mixer-Bamix brand. So handy.
If you use cardamom from whole pods, you need to remove the cardamom seeds inside the pod and grind them smaller. (as in the picture)
The next step is to measure your ground spices with a teaspoon and mix them together in a jar.
Use tips
This spice mix you can use in this Finnish spice cake recipe-Maustekakku. It can also be used for
Homemade gingerbread cookies
Instead of cinnamon in cinnamon rolls-to make gingerbread tasting rolls.
Gingerbread muffins
In bread like banana bread or pumpkin bread.
In medium sweet bread for holiday
In hot chocolate
To top your porridge with-for example rice porridge
Overnight oats
Chia pudding
Gingerbread pancakes-add for example to this Finnish pancake batter.
In self-made chocolate
In caramel candies-Swedish toffee
Storing
This spice blend keeps for months if you store it airtight. If not stored airtight it can lose some of its taste but can still be used. If your spice powder gets humidity it might get clumpy-this can even make it impossible to use.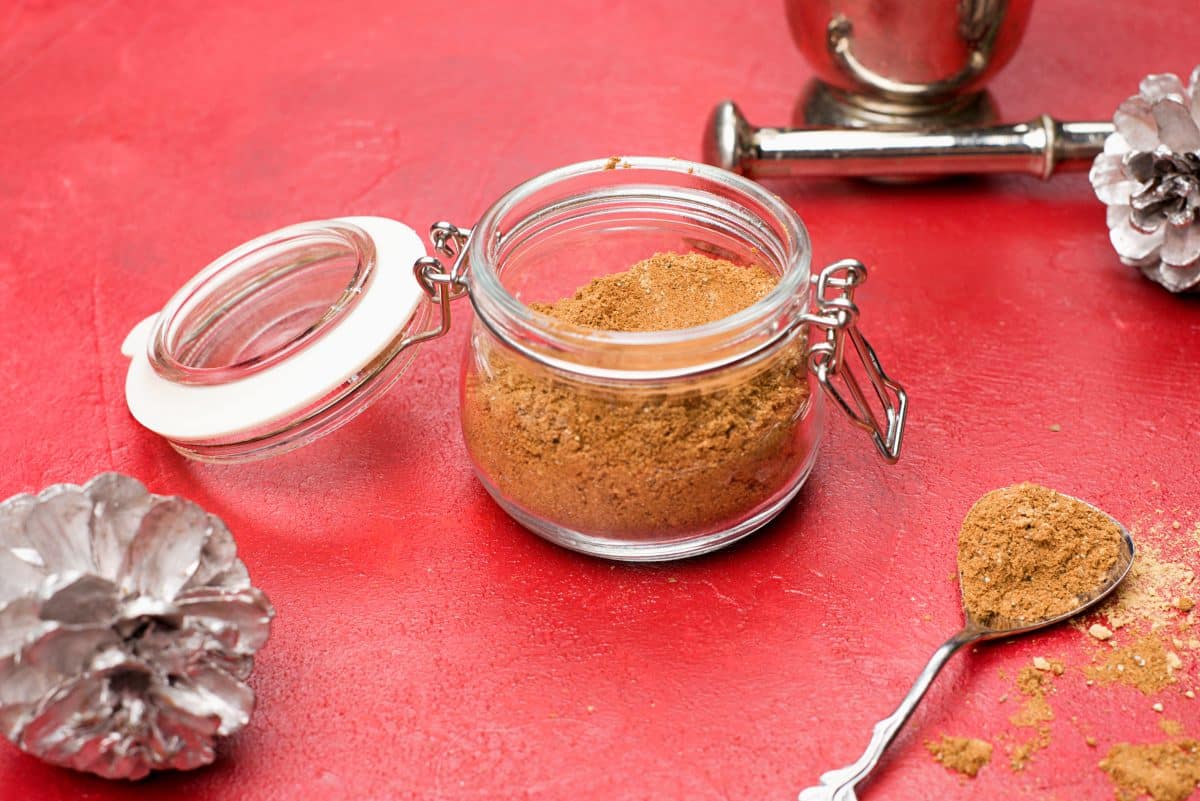 Other Scandinavian recipes you might like
Gingerbread spice mix
Scandinavian style home made spice blend
Ingredients
6

teaspoon

ground cinnamon

5

teaspoon

ground ginger

3

teaspoon

ground cloves

3

teaspoon

ground cardamom (from green pods)

1

teaspoon

ground nutmeg
Instructions
If you use whole cardamom pods, then you need to pick the seeds out and grind them smaller using an electric spice grinder or mortar and pestle.

Then measure all your dried spice powders into a jar and mix them together. The total amount makes 6 tablespoons of spice mix. It fits for example in a half-cup mason jar.
Notes
If you can find bitter orange peel as a dried powder, that is also a common ingredient in Finnish and Swedish gingerbread mixes. You can add 1-2 teaspoons of pomeranssi, pomerans in addition to the other spices. 
Nutrition
Serving:
52
g
Calories:
108
kcal