Lonkero is a refreshing cold Finnish drink. Fizzy, sweet, and perfect for summer days or sauna.
What is in a Finnish Long drink?
Finnish long drink called lonkero is made from grapefruit soft drink and gin. The drink is enjoyed cold with ice from a tall glass.
What does Finnish long drink taste like?
Lonkero is a sweet drink that has a taste of gin and grapefruit. The citrus tones are though not bitter but sweet since the drink has quite high sugar content.
History
The first lonkeros were served in the Olympic Games in Helsinki in 1952. It was necessary to develop a drink that was refreshing and could be served for large crowds. The company Hartwall took this task and made a gin-grapefruit soda drink to serve guests.
This drink was so popular that the production continued even after the Olympic Games. Hartwall still makes a Long drink with the original recipe. Lonkero is one of the Finnish people's most popular drinks, it has been the most sold drink in Alko for several years.
Ingredients for the drink
You can make this refreshing drink on your own also! With three simple ingredients:
Grapefruit soda=soft drink
Gin
Ice
But what gin is best? We love Bombay sapphire and Beefeater for the long drink. The one in the picture is something cheap we bought in Tallinn. The gin does affect the taste of this drink, and also the amount of gin you use.
You can get very different flavor profiles with different types of gin. One of my favorites is Rhu Gin, a rhubarb gin. This makes some rhubarb tones and pink drink.
Decoration
When you order a long drink in Finland it is not decorated. Lonkero is served as a 330 ml or 500 ml drink with lots of ice. You can decorate your glass with a slice of lemon, grapefruit, orange, or lime.
Tip: Serve iced grape soft drink instead of regular ice cubes so the drink does not start to taste watery.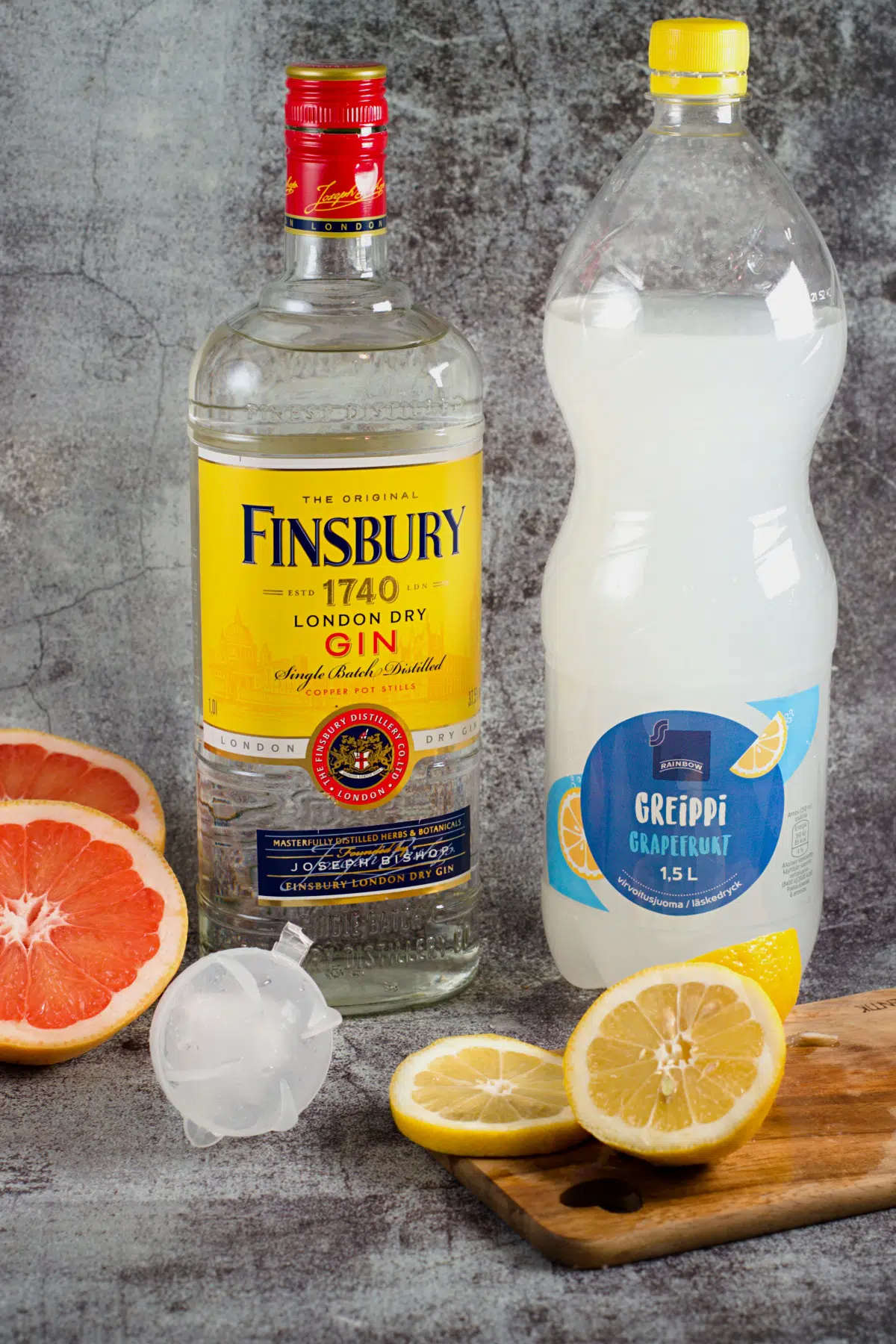 When do you drink lonkero?
Finns drink lonkero especially when they go to the sauna. Also, it is perfect in the summer as a refreshing drink. This can also be served to guests as a welcome drink.
Here is an article about Finnish drinking culture.
What sweetener is in long drink?
The store-bought long drink is sweetened with sugar. 100ml has 55 calories. Long drink light version is sweetened with aspartame, acesulfame, or stevia. Light or zero version has fever calories, 33 in 100 ml, (3,4oz).
Many zero version long drinks have 0 carbs so they are ok to drink even if you are dieting or are on keto. When making your own light version buy grapefruit soda that is sugar-free.
Lonkero brands in Finland and best long drinks
These brands are well-known drink companies:
Hartwall
Koff
Laitila
Sinebrychoff
Olvi
A LE Coq (estonian)
Saku (Estonian)
Hartwall has the most original taste of all these. A le Coq is also one of the Finnish people's favorites. Koff is a bit sweeter. If you try this drink for the first time n Finland go with the original one that is Hartwall.
These brands are food store brands and somewhat cheaper
Pirkka

X-tra

Karlens
Rainbow
Otto
Kurko
Pirkka Gin long drink got the best points in the taste test made by a Finnish newspaper. Also, X-tra is quite authentic.
Different types of long drinks
Grapefruit lonkero is not the only type of long drink you can find in Finland. Here is a list of different types:
Alcohol content in lonkero
You can find in Finnish stores:
alcohol free one
2,6%
4,6%
5,5%
7,5% can be bought in Alko (the Finnish liquor store) and on Tallinn and Sweden ferries.
Where can your buy lonkero?
In the US you can buy Finnish lonkero equivalent at finnishspirits.com. In Finland, you can buy lonkero in all supermarkets and Alko. The most popular place to buy it it's on big ferries, where it is cheaper.
Lonkero-Finnish long drink
Refreshing cold grapefruit-gin drink.
Equipment
1 Highball/hurricane or beer glass
Ingredients
6

oz

grapefruit soda

2

oz

gin (4 tbsp)

½

cup

ice
Decoration
1

wedge

lemon, lime or grapefruit
Instructions
Put your ice in the glass, pour over the gin and soda.

Garnish if you want to. Serve immediately as cold.
Video
Notes
Tip: You can freeze grapefruit soda in ice cube freezer bags. This keeps the flavor for longer and the drink does not get watery tasting. Perfect for hot summer days. 
Soda is the same as grapefruit softdrink or pop. Brands to use are for example; Squirt, Fresca, Izze, Polar.
Nutrition
Other Finnish drinks