Cold rhubarb soup is great as a dessert with whipped cream. It is also a great side with milk porridges.
Rhubarb soup is made in all of Scandinavia and northern countries. This type of dessert soup is called Kiisseli in Finnish. -Raparperikiisseli. Swedes call this rabarbersoppa and Norwegians to Rabarbrasuppe.
Different sweet cold soups made from berries and fruits are traditional desserts served with whipped cream. Rhubarb soup can also be served as a snack. Kids especially love berry soups.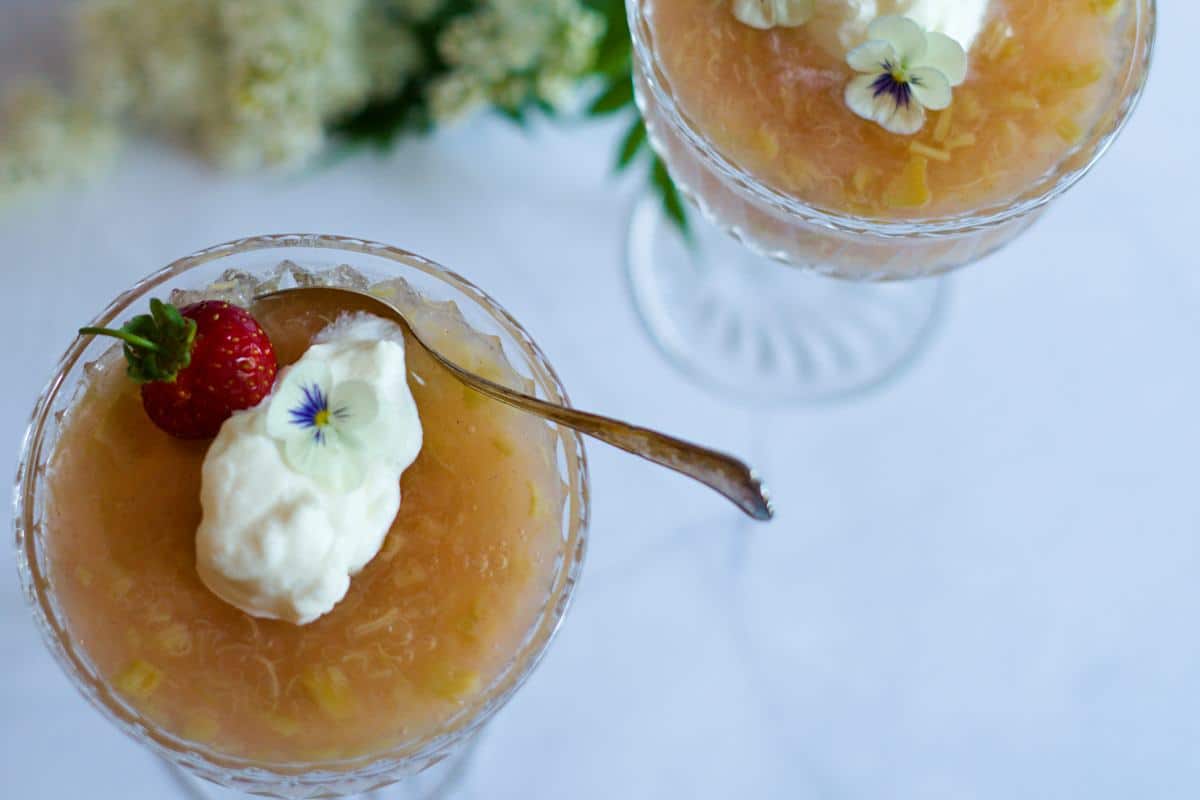 This rhubarb soup is sweet but also tart. This is why it is served with something creamy. Whipped cream, vanilla sauce, ice cream, or milk make the rhubarb's sourness melt away.
Rhubarb grows in the northern parts of the globe, where the ground freezes in wintertime. This plant is popular in gardens in Scandinavia but also in the US though It originates from Asia.
Ingredients and replacements
Rhubarb stalks. Use fresh or frozen rhubarb. The color of your stalks makes the soup greenish or more pink color.
Sugar. White sugar gives the best clear color. You can also use brown sugar.
Water
Starch. You can use cornstarch or potatostarch to thicken your soup.
How to make a low-carb version
Rhubarb does not have many carbs in itself. To make a low carb low-calorie version of this soup replace the sugar with ¼ cup of erythritol sweetener. To make the soup thick use psyllium instead of starch. 1-2 teaspoons of psyllium husk is enough. Psyllium is a type of fiber. One portion has only 2 grams of carbohydrates.
Other things you can flavor your rhubarb soup with
You can add some additional spices or make variations to your rhubarb soup.
Cinnamon
Cardamom
Vanilla
Lime zest
Apple juice or small apple cubes
Strawberries or strawberry juice
Strawberries and apples are known to pair well with rhubarb. They also add some sweetness to the soup. Strawberry-rhubarb soup is also a popular dessert. If you want to make, it just replace half of the rhubarb with fresh or frozen strawberries.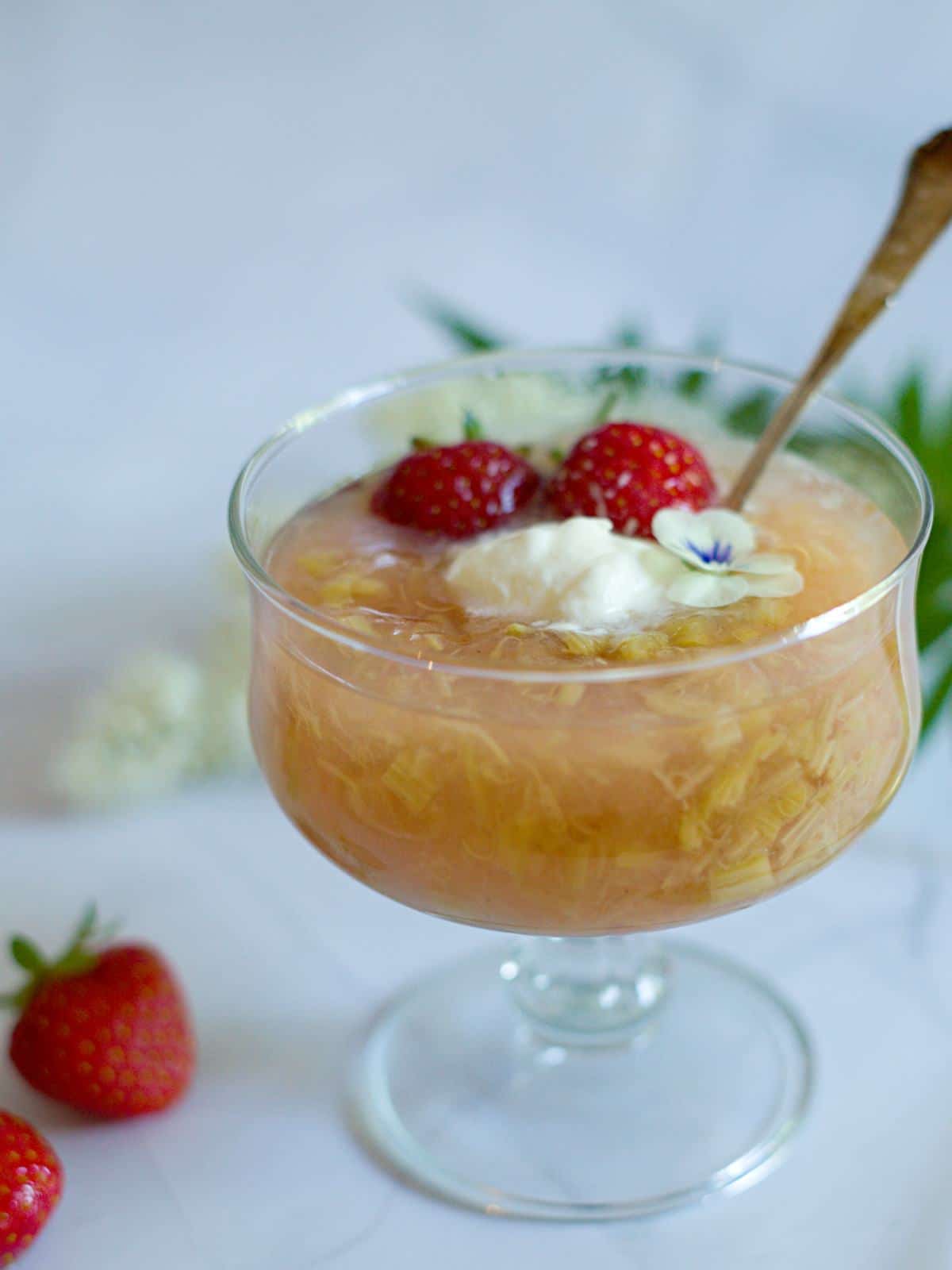 You can use the same recipe to make other berry soups also.
FAQ
Why do you serve milk with rhubarb?
Milk contains calcium, and rhubarb needs to be eaten with something calsium rich because it contains oxalic acid.
Do you have to peel rhubarb before you use it?
Young stalks do not need to be peeled, just wash them. You can peel away the outer layer from old, big, thick woody stalks.
Can you make rhubarb soup from frozen rhubarb?
Yes, the soup is delicious even from frozen rhubarb pieces.
How long does rhubarb store?
Store your fresh stalks in the fridge for up to a week. Small stalks quickly start to evaporate and become soft. Rhubarb stores as frozen for one year in an airtight container.
Rhubarb soup
A northern dessert that is simple to make.
Ingredients
2

cups

water

1

cup

chopped rhubarb, 1-2 stalks

¼

cup

sugar or other sweetener
For the starch slurry
¼

cup

water

2

tablespoon

cornstarch or potato starch
Instructions
Start by rinsing your rhubarb stalks. Young, thin stalks do not need to be peeled. If you have old thick wooden ones take out the outer layer. Cut them to 1 cm pieces.

Boil your water and add the rhubarb and sugar. Boil the rhubarbs for 10 minutes until they are soft and mushy.

Mix your starch with the water and pour it into the rhubarb soup while you are constantly stirring.

If you use potato starch, let the soup just bring to a boil so it thickens. If you use cornstarch then you need to boil the soup for 2-3 minutes. Remember to stir it constantly after adding the starch. Otherwise, clumps will form.

Pour your hot rhubarb soup into a serving jar. (one that tolerates heat). Sprinkle some sugar on top to prevent a skin to form on top.

Let it cool down and serve with whipped cream, vanilla sauce or whole milk.
Notes
Nutrition per serving: 80 calories, 0 g fat, 18,5 g carbs, 0,6 g fiber, 0,3 g protein.   
Nutrition