Spinach pancakes are a beloved dish for all families in Finland, and these are enjoyed as school lunches, snacks, and even dinners. Spinach pancakes are called pinaattilettu or pinaattiohukainen in Finnish.
Pinaatti means spinach and lettu means pancake in Finnish.
You might also like the recipe for spinach lasagna.
Jump to:
Why you will love this recipe
Unique: Finnish spinach pancakes are a popular dish in Finland, so trying this recipe allows you to experience a different culture through food.
Colorful: The addition of spinach gives these pancakes a vibrant green color, making them visually stunning, especially if you blend the batter.
Versatile: These pancakes can be served with a variety of toppings, from savory (smoked salmon or bacon) to sweet (lingonberry jam or maple syrup), making them a versatile option for any palate.
How are spinach pancakes traditionally eaten?
Spinach pancakes are usually eaten as small pancakes fried in a special pan with 3-inch holes. The pan can be a cast iron pan as in the picture. But I like to make these in a non stick pan, then I don't have to use as much butter. My mum used to fry a bit larger spinach pancakes in the size 4-5 inches. These are also a good alternative and can be rolled with some filling. One option is to bake this batter as an oven pancake, pannukakku, but it is less traditional.
Finnish schools serve them as lunch with mashed potatoes and lingonberry jam. Sometimes they are served with a ham and creme fraiche filling.(made from creme fraiche, kermaviili, some mayonnaise chopped smoked ham and spices like black pepper). I remember that the pinaattilettupäivä-spinach pancake day was always a favorite at school and we would eat as many as they would allow us.
Many families buy these as ready-made from the store, and kids love them as a snack. Microwaved, plain with some sprinkled sugar on top.
Tip: I love to eat these with some smoked salmon and a sour cream sauce.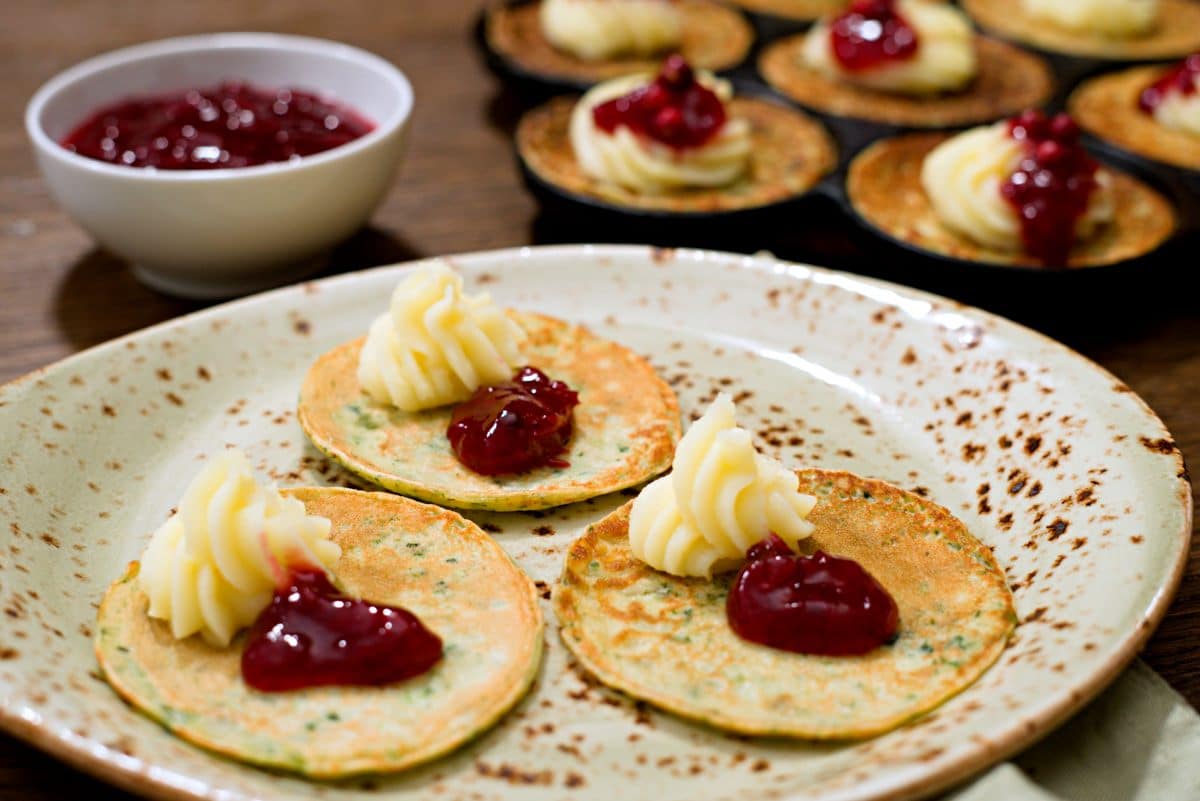 What is the difference between spinach pancakes and regular pancakes?
The difference is that this batter has no leavening agent, meaning baking powder or soda. These pancakes are flat and not fluffy as American pancakes are. The batter is also more fluid. It has less flour than American pancakes.
You can make these pancakes more American-style fluffy by adding 2 teaspoon of baking powder in the batter and a bit more flour. Don't leave the batter to rest since it is good to be fried more quickly if it has baking powder.
Ingredients and replacements
Milk. Full-fat milk tastes best. For a milk-free version, use any plant milk.
Flour. Medium wheat flour is recommended. You can use fine also, but then use a sieve to avoid clumps. For more fiber, replace half with whole-grain flour or oat flour.
Eggs. If you don't have eggs, you can make an eggless batter by increasing the flour amount.
Spinach. You can use both frozen or fresh spinach in this recipe. Also, spinach powder works.
Sugar. For sweet pancakes, add 1-2 teaspoon in the batter. For savory ones, 1-2 teaspoon is enough. Sugar can be replaced by maple syrup, honey, stevia, or erythritol.
Salt. Pich of salt elevates the flavors.
Baking powder. This is optional. Not in the original recipe. 1 teaspoon gives just a slight fluffiness, and 2-3 teaspoon makes these even more fluffy. It does, though, give a different taste if you add much.
Can you make these gluten-free?
It is easy to make gluten-free spinach pancakes using a gluten-free flour mix. There are different brands, so the consistency and taste can differ depending on the flour you use.
I have made gluten-free oatmeal spinach pancakes by changing all the flour to oatmeal flour. I first made the flour from rolled oats in a blender.
You can also mix oat flour and potato starch/ corn starch for the recipe.
What type of pan do you need?
Traditionally made in a pan with 3-inch holes. There are nonstick or cast iron versions of these pancake pans. The cast-iron pan can be used on fire also. If you use cast iron, you need more butter, so the batter does not stick to the pan. I like to use a nonstick Teflon pan with* 4 pancake holes, as in this picture.
As bigger crepe-like pancakes, these can also be fried in an 8-10 inch pan. You can add some savory filling and roll them.
Instructions
Thaw the spinach in the microwave or overnight in the fridge.
Add in half of the amount of milk and the eggs.
Mix flour, salt, and sugar and add in the wet ingredients.
Add in the rest of the milk, mix and let the batter rest for 10-30 minutes.
Heat your pan to medium heat. Add some butter or oil to the pan. Pour ¼ cup of batter if you use an 8-10 inch pan or 2-3 tablespoon for 3-inch pancakes on a pancake pan. Flip the pancakes when they have some color, and the top is set from the edges.
Tips
To make totally green pancakes blend the spinach with the milk at first, then you get an even nice green color to these pancakes.
You can even make the whole batter in a blender. Just don´t blend too long. Otherwise, the gluten activates too much, making the pancakes chewy.
What to serve with spinach pancakes?
Sweet toppings:
Strawberry or other jam
Sprinkled sugar
Honey
Maple syrup
Cottage cheese
Apple puree
Serve as a savory treat
Skagenröra, prawn filling with mayo
Smoked salmon with cream cheese
Feta cheese and chicken
Ham filling
Tuna filling
Mashed potato and lingonberries
Fried chanterelles or other mushrooms and cream cheese
Spinach pancakes for babies and toddlers
These are great to serve as finger food. When making the batter, skip the sugar and salt or just put ⅛ teaspoon salt and one teaspoon of sugar.
To make this even more nutrition filled, change some flour to whole wheat or oat flour. This makes the fiber content bigger.
Serve these with fresh fruit like bananas or berries.
Spinach pancakes are also great to pack as a snack.
Common Questions
Can you freeze spinach pancakes?
You can freeze the pancakes for up to three months in an airtight container. Putting some parchment paper between them is good so they don´t stick together.
How long do they store?
In the fridge for up to 4 days.
Can you make spinach pancakes from spinach soup?
Yes, use a traditional Finnish spinach soup as a base, and add flour and eggs. This makes savory pancakes.
How to reheat them?
Microwave for 30 seconds. You can reheat these in a pan on medium heat for a couple of minutes. These can be reheated or kept warm in an oven at 350F for 15 minutes
Spinach pancakes
Easy Finnish style spinach pancakes with frozen spinach
Ingredients
150

grams

frozen spinach, 4-6 small cubes

2

cups

milk

5 dl

2

eggs

1and ¼

cup flour

3 dl

2

teaspoon

sugar

¼

teaspoon

salt
Instructions
Thaw the spinach. (you can microwave for 10-20 sec). Mix in eggs and half of the milk.

Mix flour, salt, and sugar. Add the dry ingredients with the wet, mix, and add also rest of the milk.

Let the batter rest for 10-30 minutes.

Heat your pan to medium heat. Add some butter or oil to the pan. Pour ¼ cup of batter if you use an 8-10 inch pan or 2-3 tablespoon for 3-inch pancakes on a pancake pan.

Flip the pancakes when they have some color and the top is set from the edges.
Video
Notes
Add 1-2 teaspoon baking powder if you want a slight fluffiness to the pancakes. For American-style spinach pancakes use ½ cup more flour and 2-3 teaspoon baking powder, 1 teaspoon vanilla, and 2 tablespoon sugar.
This amount makes 40-50 small 3 inch pancakes or eight medium-sized ones, 8-10 inches. 
If you use fresh spinach instead of frozen use 4 cups of rinsed fresh spinach and blend it with the milk first, then add the rest of the ingredients to the blender to make a smooth batter. 
Finnish spinach pancakes are traditionally served with lingonberry jam and mashed potato.
If you want to serve sweet pancakes you can serve these with berry jam, cottage cheese, yogurt, ice cream, berries, fruit, maple syrup, or honey. 
Savory fillings; smoked salmon, tuna, or prawns mixed with creme fraiche, onion, salt, and pepper. 
Nutrition
Serving:
1
small
Calories:
34
kcal
Carbohydrates:
2.6
g
Protein:
1
g
Fat:
0.6
g
Saturated Fat:
0.28
g
Fiber:
0.2
g
Sugar:
0.15
g
Calcium:
17
mg