These are thin crepe-like pancakes eaten in Sweden and Finland. This is a vegan version of the traditional Swedish pancakes recipe.
These can be festive dessert if you fill them with plant-based whipped cream and fresh berries. Decorate with powdered sugar.
Ingredients and replacements
Flour. Medium wheat flour is used in traditional swedish pancakes.
Milk. For milk free pancakes use plant-based milk. Almond milk, soy milk and oat milk works great for these.
Sugar. Sugar can be replaced with stevia, erythritol or maple syrup.
Baking powder. Baking powder does not belong to an original scandinavian pancake recipe. I like to add 1 teaspoon to give a slight fluffiness to the consistency.
Salt.
Other spices. For sweet pancakes add cinnamon, cardamom and vanilla sugar. ½-1 teaspoon each.
To make chocolate vegan pancakes add 1-2 tablespoon of cocoa powder and a bit more sweetening.
How to make a bit healthier version?
Change half of the regular flour to wholegrain. You can also use half as oatmeal flour. This increases the fiber amount.
1 tablespoon of chia seeds, flax seeds or husk is also a good way to add some fiber.
Green pancakes can be made by adding some frozen thawed spinach or nettle powder to the batter.
Shredded carrot is also a great addition to the batter. See inspiration from this carrot pancakes recipe.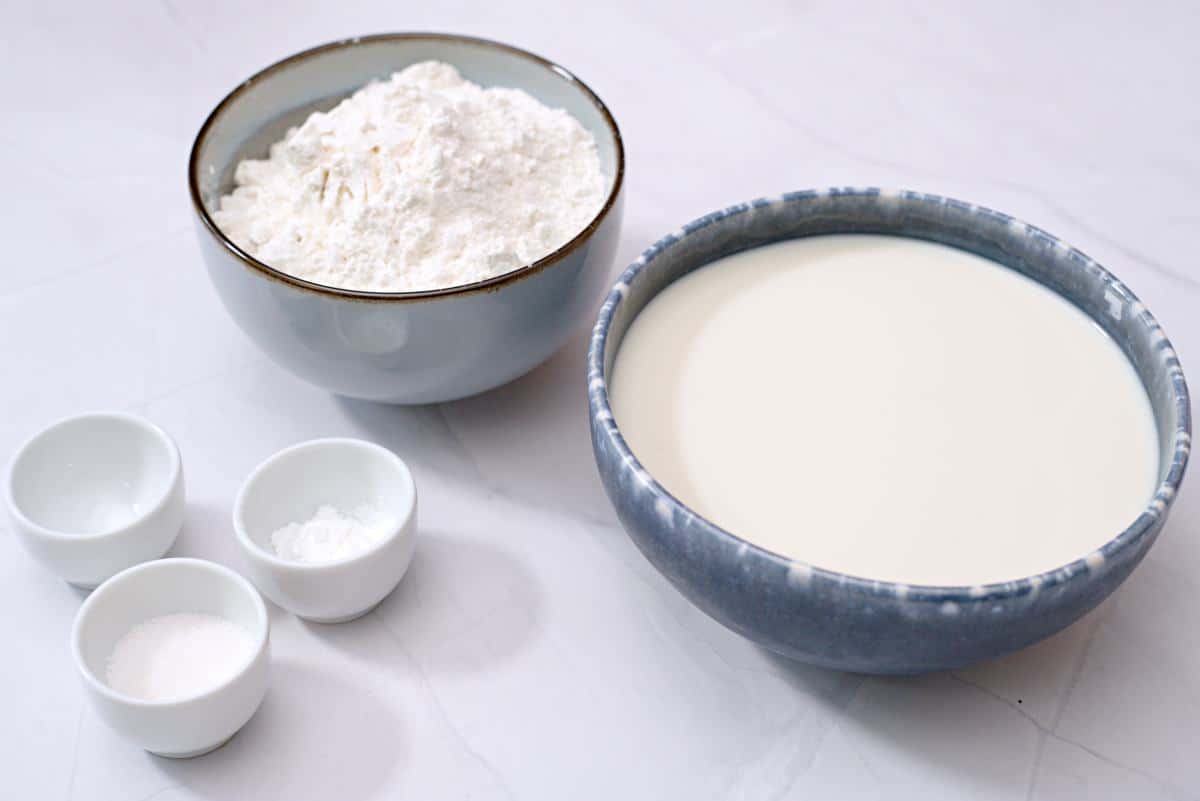 What to serve with vegan Swedish pancakes?
Whipped plant-based cream
Fresh berries like blueberries, strawberries, raspberries
Berry jam
Vanilla sauce
Ice cream
Vegan vanilla yoghurt
Maple syrup or other syrup
Roasted nuts
Nutella
Sliced banana
Traditional Scandinavian topping is strawberry jam and whipped vegan cream. I like most soy-based creams since oat-based have a slight "oaty" taste. Add some vanilla sugar to the whipping cream. If you like coconut taste serve with whipped coconut cream.
What pan is best for vegan pancakes?
I like nonstick pans. Traditional is a cast iron pan but it needs much more fat for frying. An 8-10 inch pan is good for making pancakes. You can use a crepe pan, but the pancake breaks more easily, the larger the pan is since it does not have any eggs as a binding agent.
How to get a nice lace pattern?
Use margarine or heat-resistant oil for frying and an enough hot pan. You can also replace a third of the liquid with sparkling water.
How long do the pancakes store?
Store up to 3-4 days in the fridge airtight. You can freeze them up to 3 months.
Vegan Swedish pancakes
Simple pancakes made from flour and vegan milk.
Ingredients
2

cups

Plant-milk

1¼

cups

Wheat flour

1

teaspoon

Baking powder

1

tablespoon

Sugar

¼

teaspoon

Salt

2

tablespoon

Oil for frying, for example rapeseed or coconut.
Instructions
Pour in half of the milk and stir it with a whisk. Add the rest of the milk and give a whisk. Don´t stir too much or the gluten activates and the pancakes become chewy.

Let the batter rest for 5-10 minutes. This makes the flour clumps disappear when the flour swells.

Heat your pan to above medium heat and fry ¼ cup of batter in an oiled pan. Give the batter a whirl on the pan so it spreads out evenly.

Give the batter a whisk between every pancake since the flour sinks to the bottom.

Turn your pancake when it has some color and it is set on the top. Reduce the heat after your first pancake to medium.
Notes
This amount makes 7-8 medium flat pancakes. 
For sweet pancakes, you can also add ½ teaspoon cinnamon, cardamom powder, and vanilla sugar. 
Store up to 3-4 days in the fridge.
Nutrition