Finnish cuisine is characterized by using fresh, natural ingredients, such as berries, mushrooms, fish, and game. A nordic diet is also rich in whole grains, berries, and vegetables, all healthy and delicious. Every food culture also has its not-so-delicious foods. Let's dive into some you might want to know about in Finnish cuisine.
Often Finnish food can be a bit bland-read more about why.
Weird foods
Reindeer meat: In some countries, they eat guinea pigs, in Finland, we eat reindeer. This is a staple of Lapland cuisine and is often served as a stew called poronkäristys or as meatballs. We also eat elk meat.
Blood sausage: Mustamakkara sausage is made from pork blood and other ingredients like rye flour and spices.
Fried vendace: Paistettu Muikku. Vendace is a small fish that is fried and eaten as it is or served with mashed potatoes.
Nokkoskeitto. Soup made from spring nettles. See here for recipe to nokkoskeitto
Karelian pastries (karjalanpiirakka): a type of rye pastry filled with rice porridge. I love it , my husband hates them.
Mignon egg. These chocolate eggs are sold during easter and have a real egg shell covering the chocolate.
Maksamakkara. Liver sausage is a soft, spreadable sausage on a sandwich, very like liver pate.
Kesäkeitto. Summer soup. A milk-based soup with fresh summer vegetables.
Spinach pancakes. What is interesting about these is that at Seinäjoki schools, they are served with bolognese sauce. See the recipe for regular sweet or savory served spinach pancakes.
It's worth noting that these foods are traditional and loved by Finns.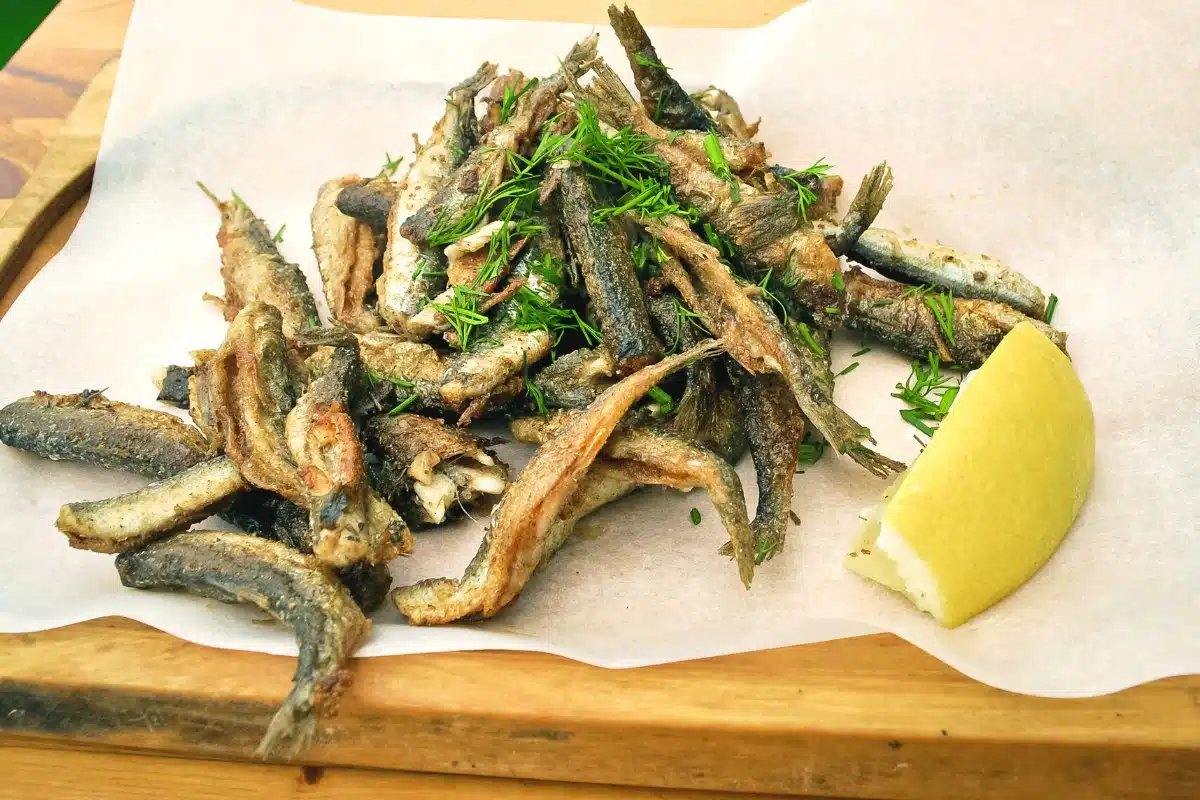 Disgusting Finnish foods
It's subjective to say which foods are "disgusting" because taste preferences can vary greatly from person to person. What one person might find unappetizing, another person might enjoy. But I suppose tourists don't enjoy these foods. And on the list, I also have many foods, that are the most disgusting ones in history, rarely cooked nowadays.
Mämmi (rye pudding) A dark brown dessert baked from malted rye served with heavy cream. Usually eaten during Easter. What makes this disgusting is the appearance and consistency.
Salmiakki. Strong black licorice candy. Most Finns love this and carry small licorice candies in their handbag.
Terva. Tar is used to flavor candies as well. It might be quite a unique flavor experience. Try out tervasalmiakki. This is salmiakki flavored additionally with tar.
Tyrkisk Peber. This is a licorice candy that is very strong and hot. It's like having black pepper and chili inside a sweet licorice candy. Once you start, you can't stop eating these.
Tatti. Boletus mushroom. There are many different types of Tatti mushrooms in Finland, some of them with a very slimy bland consistency and flavor after being cooked. Some are poisonous. The one you should try if you dare on the "tatti adventure" is herkkutatti. This is the most flavorsome.
Veriohukainen. Blood pancake. Savory pancakes made with animal blood served with lingonberry jam.
Lipeäkala. This famous Swedish lutefisk was also eaten in Finland. Quite rare nowadays. The fish is eaten with an egg sauce and boiled potatoes. Lye fish is air-dried white fish cured in lye.
Syltty, also called alatoopi. A type of meat jelly eaten on a sandwich.
Muikkukukko-A whole baked type of bread pie filled with vendace(small fish) and pork loin. This can be hard to find in stores, usually only sold at summer markets or local stalls. A famous eastern Finnish food. Kalakukko is the same but made with some other fish.
Maksalaatikko-rice and liver casserole. This is also a common school food. Served with lingonberry jam. If you want a taste, all grocery stores sell it very cheap. Just microwave and try it out.
Klimppisoppa. This soup was more popular in history. It is a meat-based soup but with "clumps" made from flour, eggs, and butter. A bit like gnocci.
Mykyrokka. An Eastern Finnish soup with blood and organs.
Veripalttu. A bit like meatloaf or a type of bread but made from animal blood and flour.
Läskisoosi. A brown sauce made with pork loin. Eaten with boiled potatoes.
Piimävelli. A type of sweetish soup. Boiled from sour milk, dark syrup, and raisins, and it has some bread cheese as bits in it. Some people add rice or flour-egg clumps to it.
Lanttulaatikko. Rutabaga casserole. This divides people; either you like rutabaga or then you don't. It is always served at the Finnish Christmas table.
Want to know an urban legend my mum told me? The story says American soldiers were served mämmi at wartime or just as the war had ended. It was scarce, and money and food supplies were short. They were very shocked about what was being served to them. Not understanding the language they hastily left the house and immediately messaged how Finns are "eating twice the same food" and food-aid packages were urgently needed.
Some weeks later the small Finn village in Eastern Finland was very happy to receive conserved food packages.
Task: Want a funny task? When visiting Finland, start talking to some people. Then randomly ask if they have salmiakki on them. They might surprise you.
Hope I did not destroy your appetite with all these disgusting foods. Below are some foods you might want to cook.