Pickled herring is traditionally served as a part of a smorgasbord, which is a type of Swedish buffet that typically includes a variety of cold and hot dishes. Pickled herring is often served with other foods, such as boiled potatoes, eggs, sour cream, and dill, and it is often enjoyed as a snack or appetizer.
A bit of herring history
Pickled herring is a popular food in Sweden and Finland and has been a part of their culinary tradition for a long time. Herring was caught in large quantities in history and needed to be conserved for the wintertime. Salting was a safe way to do this. Herring was (and still is) salted in large barrels. Before it can be consumed, it needs to be soaked in water, so it is less salty.
When a famous Swedish cold buffet manageress invented the 1-2-3 pickling solution, this liquid with spices became popular even for pickling salted herring filets to give them some sweetness and flavor. Salted, water-soaked herring would be put in this pickling solution for a couple of days and then enjoyed.
Salted herring was not only enjoyed as a pickled version, but the most common way to eat it in history was to fry the water-soaked herring and eat it with potatoes and eggs. If one could afford an onion, cream sauce was luxurious with the dish. Potato mash, lingonberries, and browned butter was one way to eat rye flour breaded herring.
Different types of pickled herring
Regular pickled herring, glasmästarsill is made with inläggningsill. Flavors that include mayonnaise or creme fraiche are made from the ready-pickled herring called 5-minutersill fillets. You can read more about the different types of herring fillets sold in Swedish stores in the basic recipe article for pickled herring.
Mustard: Pickled herring flavored with mustard is made with a marinade that includes mustard, sugar, vinegar, leek, dill, and other spices. Another mustard herring variation is to add mayonnaise and creme fraiche to the mix. This type of herring is usually eaten within a day or two, since the mix keeps only a few days. Sweden is known for different flavored mustards, and some recipes use many flavors of mustard.
Dill: Pickled herring flavored with dill is made with a marinade that includes fresh dill, vinegar, and other spices. The dill adds a fresh, herbaceous flavor to the herring. Dill-flavored herring can be made in clear broth or with creme fraiche. Red onion also goes well with this mix.
Onion: Pickled herring flavored with onion is made with a marinade that includes diced onions, vinegar, and other spices. You can use only one type of onion or a mix of red and yellow onion or shallots.
Garlic: Pickled herring flavored with garlic is a creamy marinated herring made with a marinade that includes minced garlic, creme fraiche, mayonnaise, fresh herbs, salt, and pepper. Lemon is sometimes added.
Curry: Pickled herring flavored with curry is made with a marinade that includes curry, mayonnaise, and often leek and apple.
Tomato: This is also a classical recipe. Tomato herring has a tangy sweet, sour taste. It is also flavored with some sherry. The self-made version is often just made using ketchup. It is flavored with vinegar, sugar, white pepper, red onion, and dill.
Ways to eat pickled herring:
Appetizers
Pickled herring is often served as a topping on a slice of bread or knäckebröd-crackers, along with diced onions, leek or chives, boiled eggs, boiled potatoes, or other toppings. Some mustard sauce or mayonnaise goes well with this.
Sillrullar is made by rolling some herring, creme fraiche, red onion, and dill inside a tunnbröd and then slicing it into small bite-size pieces.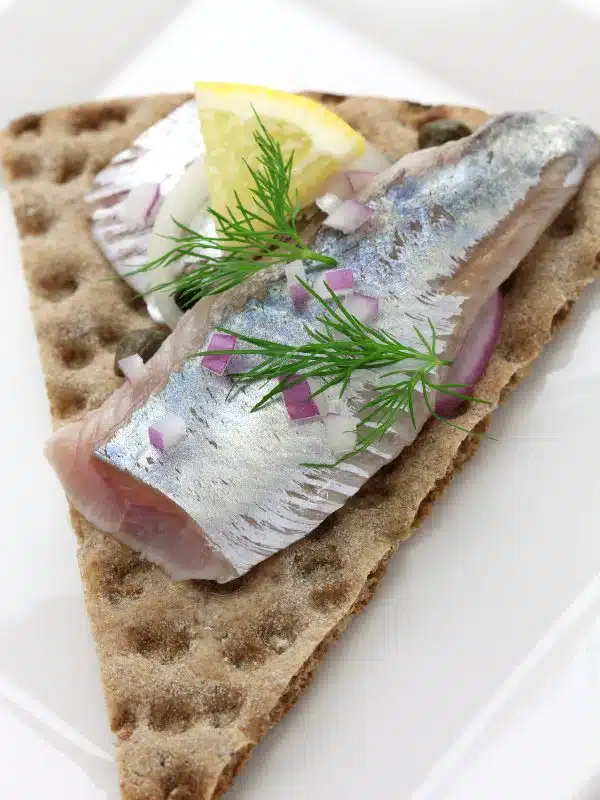 Small cocktail pieces are made with a piece of rye loaf, butter, a slice of boiled egg, some herring, and dill or parsley.
Roasted potato halves are delicious with a piece of pickled herring.
Russian blini pancakes are exquisite, with a herring-caviar filling that is made with cream cheese and topped with onion and dill.
Rollmops is one type of appetizer. These are made with some pickles rolled inside the fish. Some schnapps is essential. Rollmops is actually not that popular in Sweden, more in Germany. In some parts of Finland, Rollmops were eaten in history on the first of May-Vappu.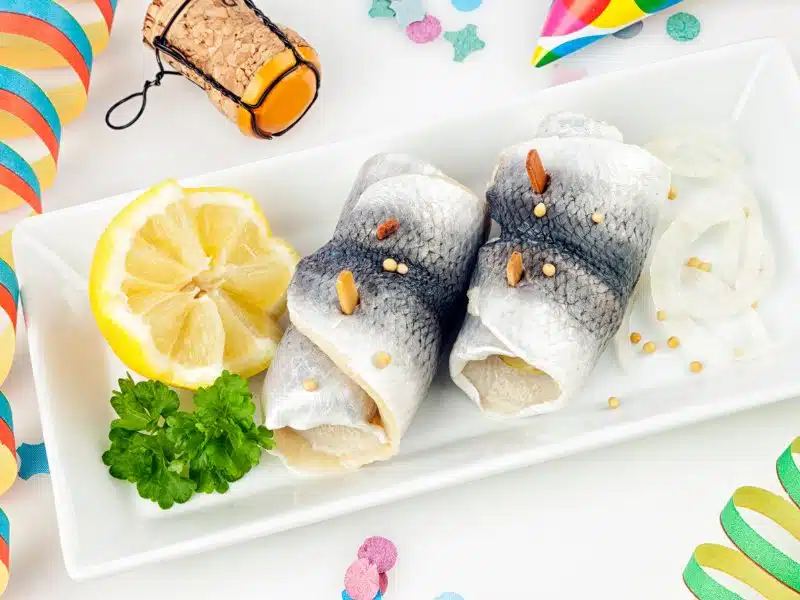 Salad
Sillsallad: This is a traditional salad at the Christmas table. This salad has some boiled beets, potatoes, fresh apples, onion, herring, mayonnaise, and whipped heavy cream.
Gubbröra: This salad is made with hard-boiled eggs, boiled potatoes, matjes herring, chives, dill, creme fraiche, mayonnaise, and fish roe.
Sandwich
Pickled herring goes well on a Scandinavian-style open-faced sandwich. This is called sillmacka or sillsmörgås in Swedish. If served on a sandwich, egg, potatoes and creme fraiche sauce is common topped with some red onion of course. Mayonnaise is used instead of butter.
A modern cook might serve the herring sandwich with nicely sliced avocado.
Part of meal
Potato gratin can be made with some matjes herring fillets.
A smörgåstårta can have some pickled herring in the filling.
A savory pie can be baked with some pickled herring.
Pickled herring is a part of meal especially at midsummer. It is eaten with hard-boiled eggs, boiled potatoes, fresh salad, and a sauce. A variety of marinated herring is usually at the table, like mustard herring, tomato herring, and dill flavored.
This same sortiment is served at the Christmas buffet. Naturally Herring is also eaten during Easter.
How much pickled herring per person?
As an appetizer or snack, a serving of pickled herring can be as small as a few ounces. Usually 5-10 pieces of pickled herring per person is a good amount to reserve. If pickled herring is being served as part of a smorgasbord or buffet, it is generally served in smaller portions along with a variety of other dishes. In this case, a serving of pickled herring would typically be 2-3 ounces, around 60 grams.
If pickled herring is being served as a main course, a larger serving of around 5-8 ounces per person may be appropriate. It is important to keep in mind that pickled herring is typically served as part of a larger meal and is not meant to be the sole source of protein. Herring is very salty. This is why boiled eggs are also served, adding protein to the meal.
As a rule of thumb one 250 grams jar of herring is suitable for 1-2 persons as a part of a main meal with potatoes, eggs, and such. If you serve it as an appetizer, you can serve 4 persons from one small jar.